Mass Effect Andromeda's co-op adding batarians
Ol' Four Eyes Is Back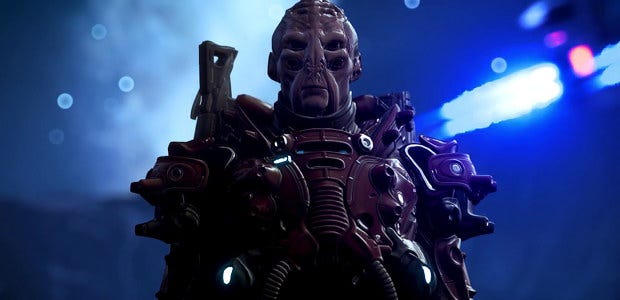 A new higher difficulty setting and, seemingly, batarian troops are coming to the cooperative multiplayer of Mass Effect: Andromeda in a future update. Unhelpfully, Electronic Arts don't have much to say about either at this point.
They don't have much to say about anything connected to Andromeda these days. Rumours are floating around that no follow-up is coming and that nor are any singleplayer expansions. That's all just rumour for now, mind. Anyway, check out ol' four-eyes here:
That trailer is ostensibly cranking the hypometer for Platinum difficulty ("Take your skills to the next level," says an accompanying tweet. "Platinum Difficulty is coming to APEX Multiplayer.") but it focuses on a batarian who, er, EA forget to even acknowledge. The alien race didn't appear in Andromeda at all so it's probably not wild speculation to guess they're being added to multiplayer.
Several batarian classes are in Mass Effect 3's multiplayer, most of them with beefy melee attacks and a 'Blade Armour' skill which made people hitting 'em cut their own hands to ribbons, the idiots.
No word yet on when that update will launch. As for the future of singleplayer Mass Effect, we don't know.
Last week, a load of big sillies were fooled by a hoax Facebook post from a company claiming that they had been working on Andromeda singleplayer DLC until it was cancelled. They hadn't.
However, Kotaku's Jason Schreier claims that he has spoken to "three sources familiar with the company's plans", who spoke under condition of anonymity because the industry punishes leaks harshly, and they confirmed that no singleplayer DLC is currently planned. So they say.
As for whether another game is coming, we do know that EA moved staff at BioWare's Montreal studio onto other projects after Andromeda launched. Shuffling people around to support the development of different projects at different stages is fairly standard for mahoosive companies but, according to more rumours from folks Schreier said were in the know, supposedly EA have made a definite decision to let Mass Effect rest rather than launch right into making another. Though EA don't usually announce sequels right after a game launches, of course.
Anyway! Platinum and batarians, yeah? I've not picked up Andromeda at all yet but I was unexpectedly fond of Mass Effect 3's multiplayer. What's it like in this one, gang?