Microsoft Flight: Incessnant Questions
Cockpit Chatter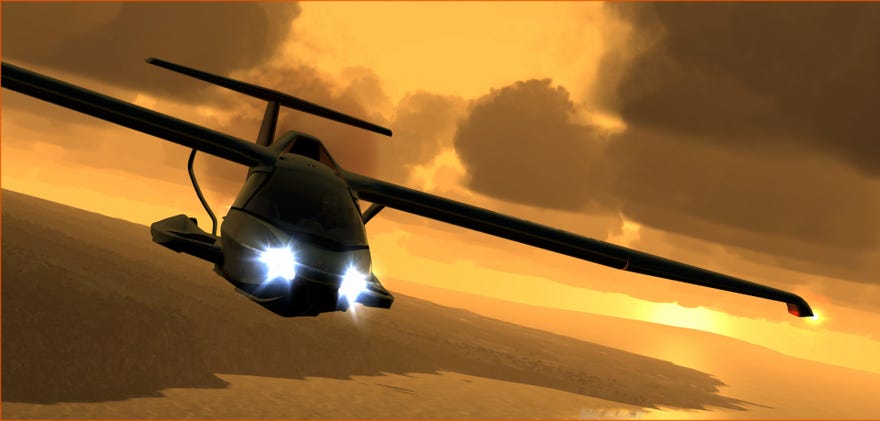 Pressing the 'SUBMIT' button on the Microsoft Flight beta application page does one of two things. if you're lucky it propels your application down PTT tube 'A' - a trans-global conduit that terminates just above the desk of Merlin Packard, the MS Flight beta manager. If you're unlucky it sends your missive down PTT tube 'B' - a trans-global conduit that terminates just above the maw of Kīlauea, Hawaii's most energetic lava vent. Unfortunately, my application seems to have ended-up in the volcano. Deprived of first-hand Flight experience I've been forced to fact-gather by quizzing the developer. Descend ten thousand micrometers to see the result of that quizzing.
RPS: Do you think Flight will have anything to offer the Microsoft Flight Simulator hardcore - the people with simpits and hundreds of pounds' worth of high fidelity third-party aircraft and sceneries on their HDs?
Joshua Howard: Microsoft Flight leverages the best of what core fans have always loved about the franchise; there are a variety of ways to fly with better aircraft models and better graphics than ever before. It will also evolve over time through game add-ons, giving sim fans a rich experience. We're aiming to honor the legacy of the Flight Simulator franchise while also expanding the experience to brand new audiences. It's about growing the experience, not watering it down. Many of the hardcore beta testers tell us that once they fly in Flight (especially with the flight assists turned off), they can't imagine going back – the authenticity of the flight model is better than it's ever been.
RPS: What facilities have you laid on for those, possibly nervous, new audiences?
Joshua Howard: We worked hard on finding ways to make the experience more approachable than ever. Whether it's the care taken to give a complete newbie the satisfaction of success in the very first tutorial, the range of optional flight assists, or the easy to use mouse controls (which still feel 'connected' and authentic, while being very easy to use), Flight includes a number of features specifically intended to bring inexperienced players into the game.
RPS: What made you plump for Hawaii as a venue?
Joshua Howard: Hawaii was chosen due to its beautiful, exciting terrain. The lush, breathtaking cliffs of the historic Waipio Valley, the Hawaii Volcanoes National Park... the islands are an internationally recognized destination, which was an important part of our effort to ensure our initial release had broad appeal. We're still defining future regions and releases. If players decide they'd like to explore more of Hawaii, they can purchase the remaining islands as part of a game add-on that will be available at launch. Additional expansion packs will be released on an ongoing basis, and we're excited to share more on that later this year.
RPS: How much are the extra regions and aircraft likely to cost?
Joshua Howard: There's hours of exciting gameplay for free with the initial download. I don't have details to share at this time regarding specific game add-ons, but we're happy to share more information on that later.
RPS: Will all of the add-ons be produced internally?
Joshua Howard: We will be managing all of the add-ons, at least for the foreseeable future, whether we build them in house or partner with external developers. To enable the needed improvements in performance, visuals, and new experiences, Microsoft Flight is a completely new product with an entirely new code base, architecture, toolset, and even a new distribution model. Therefore, add-ons developed for FSX will not be compatible with Microsoft Flight. One of the biggest frustrations for our customer base has been locating new content online and finding where the top quality products can be purchased. By consolidating all of our new content under one roof, we can simplify the process for the customer and deliver a consistent level of quality through all of our releases. As a result, we will be taking the lead role in new downloadable content for the initial launch and first months of content deployment. As we gain more experience with the distribution model and gain better insight into how our users are enjoying the experiences, we will explore opportunities to grow our content offerings.
RPS: Can you give an example of a mission?
Joshua Howard: Missions cover a lot of ground, and can be very diverse. My two favorite examples are the Kayaker Rescue mission and the Aerobatic Competition missions. In the Kayaker Rescue mission, the player is asked to participate in a search and rescue effort along the coast. You are being given updates from the overall search and rescue effort as you go, and you really feel like you are part of this larger effort. You don't know exactly where the missing kayaker is, so you have to fly low enough and close enough to the coast line to spot him. It's a great example of how missions can tell a story, while making you feel like you are part of something larger.
The Aerobatic Competitions also involve some story, but give the player a chance to show off their flying skills in ways that a standard delivery type mission never would. This is a mission type that encourages players to experience flight in ways they may not otherwise have the confidence to try. Even in the safety of a virtual flight, successfully driving your plane through hair-raising maneuvers delivers a rush like none other.
RPS: Can you explain how the aerocache challenges will work?
Joshua Howard: These are a brand new kind of activity of play for a flight game, and are something we are pretty excited about. Aerocaches are hidden points in the terrain that players can discover by using hints about the location. Those familiar with geocaching will immediately recognize the experience. There is something really satisfying about having to figure out where a particular aerocache should be, searching around to spot it, then successfully collecting it without prematurely ending your flight.
Some aerocaches are pretty straightforward, but they can also get much much harder, from clues that take some effort to puzzle out, to locations that are genuinely difficult to maneuver to. For users who sign into Live, there is a new aerocache every day. Over time, as we add more locations, we will also add more aerocaches.
RPS: All the videos and screenshots released so far have featured single planes. Will Flight fliers ever share skies?
Joshua Howard: Yes, players will be able to host or join in on multiplayer matches with up to 16 others. Players can team up with friends in the LIVE community to fly and explore terrain together.
RPS: Is there any chance we'll ever see jetliners or dogfighting in Flight?
Joshua Howard: We can't confirm specific details regarding future content, but look forward to sharing more information.
RPS: Can you recommend a route for my first Flight flight?
Joshua Howard: Fresh off your success with the first tutorial, I like to point people to the aerocache hunts. The first aerocache you do will features a short introduction explaining how aerocaches work, then drops you in the air over Hilo airport. Within a few moments you find you are closing in your goal, and when you see it (I won't give away where exactly) it's very satisfying to swoop down and collect it. In just a few minutes, even someone who has never played a flight game, discovers both how thrilling flying can be, as well as how much fun exploring from the air can be. Then again, if you consider yourself an old hand at flight games, consider diving right into the Stearman Introduction; it's a very different experience than the Icon A5, and opens up a whole new set of possibilities in the game.
RPS: Thanks for your time.