Implausibly Reviewed: Minecraft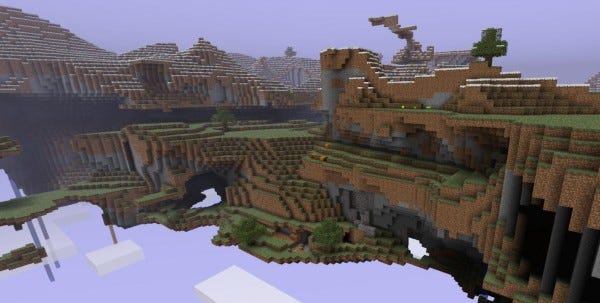 RPS chums Eurogamer asked me to review Minecraft for them a little while back. I had a bit of a funny turn in response - "review Minecraft? What, with like a score and stuff? Now? Um" - and then, of course, I said yes. With Mojang's game finally due to achieve official release status this weekend, in the midst of the inaugural Minecon, it did seem oddly appropriate to finally look at this titan of indie gaming from a non-diary standpoint, even if I am personally not an enormous fan of putting numbers at the end of essays. So, here are my thoughts, with, yes, a big number on the end. Here's how it starts:
"How would you review Tetris, if you were reviewing it today? "The puzzling is very tight, and the soundtrack is catchy." That's the thing - Tetris is so much more than that by now, but it's almost impossible to disassociate it from its cultural resonance. Minecraft, the free-form building and survival game, hasn't yet seeped into the global consciousness to the same degree, but it has become something far more than a mere game."
And then I start wittering about Justin Bieber.