2D Survival Shenanigans: MiniDayZ
Free browser game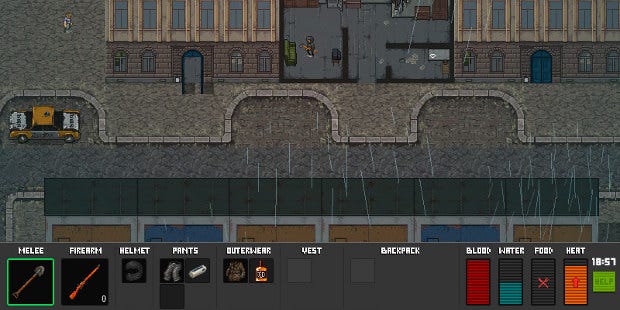 Look, we can't put this off much longer. I'm putting up a dado rail in the sitting room and if I have to go to B&Q on a Sunday afternoon, you have to go to B&Q on a Sunday afternoon. No lone person deserves that grim hellscape. If it'll help you steel yourself, here, have a play of MiniDayZ for free. It might not prepare you for a couple furious that the paint-mixer's out of a particular pigment, but a top-down 2D take on Bohemia's zombie apocalypse survival sim comes close to the experience.
MiniDayZ has all that DayZ survival jazz - zombies, a big world, looting, weapons, stats like blood, body heat, and hunger to balance, crafting, bandits, and dying pathetically - but in simplified top-down form. My crack at this was the first time I played anything DayZ, and I duly died from blood loss after zombies bit my face and I fumbled while tearing my t-shirt. That sounds like DayZ, from what I've heard of it.
Multiplayer is planned too, one day.
It's made by a DayZ fan with official recognition from Bohemia. The dev's been releasing public test builds for a while, and reached version 1.0.0 on Friday. It's a browser-based doodad you can play over on Bohemia's site once you've created a Bohemia account.