Necromantic: Age Of Wonders III - Eternal Lords
An enormous expansion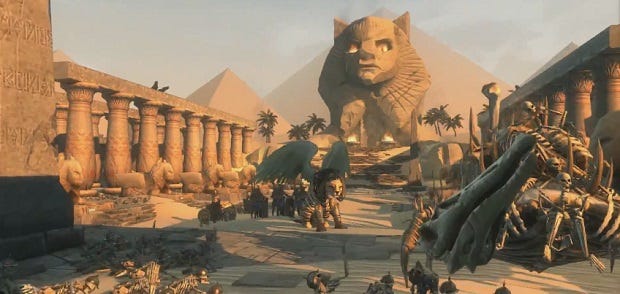 I don't own a boxed copy of Age of Wonders III [official site] but I'd be tempted to buy a chunky great container for the newly announced expansion. It definitely sounds like an Expansion, with a capital E rather than a capital D, L and C, and call me old-fashioned but I fondly remember the days when such things were an event. There's a short video below in which people ride polar bears and a spooky sphinx shoots fireballs out of its eyes. You'll also find a full feature list, including new races, specialisations, items, rules, features and "cosmic events".
I reinstalled the base game and its first expansion last week, having barely played it since release. Almost a year has passed and I wanted to re-evaluate my own judgement. Here's how I concluded.
Age of Wonders III could have been constructed in the golden age of turn-based strategy. In fact, given the competition it's going to have as the year goes on, it's an additional reason to believe that we might be heading for that golden age right now.
That seems fair. Endless Legend came along later in the year and while I think it's a more impressive achievement, its similarities to Age Of Wonders don't run as deep as you might imagine at first glance. Age Of Wonders is a more traditional beast and it's an extremely comforting game with which to spend time. Eternal Lords doesn't sound like it'll take players outside the comfort zone, but it does sound like it'll add a hot tub, sauna, games room, jacuzzi and the biggest bestest beanbag in the world.
The Necromancer Player Class: The Necromancer's legions march to establish an eternal kingdom, unifying all the world's races in death. The Necromancer creates spectacular undead units, such as the Bone Collector, a crablike monstrosity which eats corpses to strengthen itself. Other units are summoned, such as the Banshee, which invokes despair in the hearts of the living. The Necromancer's dark magic allows players to convert towns to cities of the dead, filled obedient Ghoul minions.
Keeper, Grey Guard and Shadow Born Leader Specializations: Champions of Good, Neutrality and Evil respectively, these three new specializations deepen the alignment mechanics and provide players of all classes powers to withstand the challenges of the new age. Learn spells to summon mighty Angels, end game units who embody the essence of each alignment.
Frostling Player Race: Frostlings are a race of humanoids that emerged from the frozen north. Lead by their Ice Queens, they embark on frequent raids in warmer lands. Their seafaring skills, offensive fighting style and frost magic spread fear among the coastline villages they pillage. Frostings are even more deadly in their home arctic clime, where they build cities carved into the very glaciers they hope will someday grow to cover the earth.
Tigran Player Race: These feline humanoids hail from remote desert lands. They worship the sun and track the cycle of day and night; life and death. Their natural curiosity about necromancy and the passing of regal souls into kingdoms of glory in the afterlife inspires them to construct massive tombs. Tigrans are natural sprinters, capable of moving far faster in combat than members of the other races, and are familiar with shape changing magic, allowing their mystics to transform into Dire Panthers.
Eternal Lords Story Campaign. An epic battle of the forces of creation: fire versus ice, life versus death. As Arvik, heir to a broken Frostling kingdom, you awaken forbidden necromantic powers to reclaim your realm. You will find unlikely allies, and must choose between your Frostling roots and the full potential of your new found powers.
Cosmic Happenings: The dawn of the Eternal Lords has triggered cataclysmic events that can radically shift fortunes. These events occur as the game progresses, disrupting the best laid plans and providing opportunities for cunning players to gain an advantage. Falling Clouds can fill the world with mist, giving shock weakness to machine and armored units and reducing sight range, while the March of the Troll King can cause armies of trolls to rampage across the map.
Race Governance: Relations are now tracked per race, allowing you to make careful decisions who to make ware with. Declaring war on an Elven city might give you a quick conquest, but don't expect your Elven citizens to be happy about it afterwards! As your relations with each race improve, you will be able to earn unique racial perks that boost your armies and economy.
Unifier Victory Condition. When reaching maximum Governance for a Race, the production of a Unity Beacon is unlocked in cities of that race. Building Unity Beacons for the number of races set in the victory condition, makes you the Great Unifier and wins the game.
A dozen Mysterious Map Locations: Capture the Reef Colony Dwelling, home to horrors of the deep, and discover new treasure sites such as the Lich's Castle, Temple of the Sands and the Hall of the Forefathers to benefit your empire.
Plus New Hero Items, Standalone Scenarios and more!
Eternal Lords incorporates feedback from the community and coincides with a free update which includes "Play by Email", a new asynchronous Multiplayer Mode. In PBEM games, a player takes their turn in their own time and then uploads it to Triumph's servers. Once it is uploaded, an email is sent to the next player in the game, who may then take their turn. This allows players to play when they like, without needing to set aside a large amount of time with other people to play a game all at once.
Eternal Lords is out on April 14th.