Steam's Halloween Sale is great for grand strategy
Grand so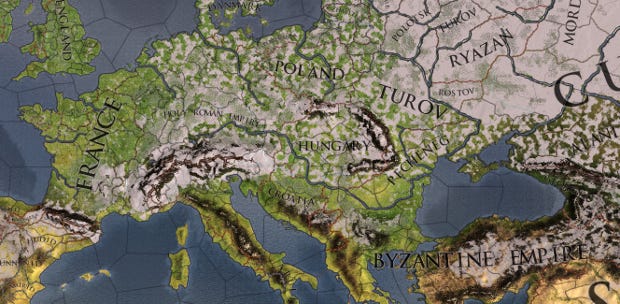 With Halloween fast approaching, I've been spending a lot of time thinking about typical spooky things: ghouls and ghosts, vampires and werewolves, marrying off my daughter to an appropriate suitor and the best trade strategy to dominate the Aegean. The Steam Halloween Sale is in full swing until November 1, and thanks to Paradox Interactive, it's full of grand strategy games.
There are plenty of scares to be found in the sale, but for me, nothing is more terrifying than trying to stop my insignificant kingdom from being torn apart by civil war or trying to plan the assassination of my indolent spouse without being caught.
Most of Paradox's catalogue is on sale, including non-grand strategy titles like Cities: Skylines and Pillars of Eternity, but if you're looking for some bang for your buck, here are a few of my personal recommendations:
Crusader Kings 2 - £7.49/$9.99/€9.99
CK2 remains my all-time favourite Paradox romp, and with the Monks & Mystics DLC, which introduces things like witchcraft and Satanism, it's more appropriate for Halloween than you might think. Here's me mucking around in Monks & Mystics.
Europa Universalis 4 - £8.75/$10/€10
Paradox's flagship grand strategy affair is a daunting, elaborate game and, for a lot of people, sets the bar for the genre. It's the most grand strategy thing you could hope to play. It's also a cracking LAN game, as Brendan discovered when he reported on a 40-player game in a Polish castle.
Hearts of Iron 4 - £13.99/$15.99/€15.99
You can make Britain communist.
Age of Wonders 3 - £5.74/$7.49/€7.49
Besiege fortresses with giant holy warmachines and dragons -- Age of Wonders was doing it long before Total War: Warhammer. This third game relaunched the series, and what it lacks in empire management, it more than makes up for in fun fantasy exploration and tactical battles. Take a gander at Adam's Age of Wonders 3 review.
Victoria 2 - £3.74/$4.99/€4.99
Victoria 2 is often overshadowed by Paradox Development Studio's more recent grand strategy offerings, but it's still a doozy, tackling the politics, conflicts and colonial concerns of the 19th century. There's a reason that Paradox is always being pestered for a sequel. Our pal Rob Zacny sings its praises in his critique of the 4X genre.
Stellaris - £13.99/$15.99/€15.99
The newest of the bunch, Stellaris combines 4X space shenanigans with grand strategy, with some interesting results. The sci-fi conceit has also allowed Paradox to get pretty creative with storytelling, but the best stories are still the emergent ones. Here's what I thought of its major expansion, Utopia.
Right, that's your lot for now. Enjoy a grand Halloween.