A Glimpse Of Our Cyberfuture In Neon Struct Trailer
First-person stealth thriller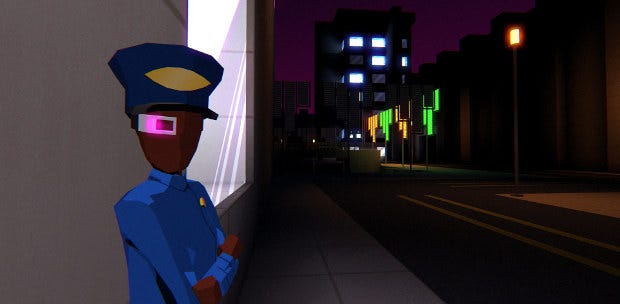 Hands up: who wants to be a secret cyberagent on the lam in the garish and cruel future? You'll note that you can't raise your hand, as while you were all distracted by that screenshot, I snuck around breaking your arms. And that, MI6, is why you should defs hire me once you get into the cyberagent game. It's also why I'm quite keen to play Neon Struct [official site].
Minor Key Games, the teensy team team behind Alec-pleasing Lovecraft 'em up Eldritch, have dropped a new trailer to reveal a May 20th release date. It's well data, yeah?
Neon Struct is a first-person stealth thriller set in that ever-grim dystopian future. There, the government are hunting for former spy Jillian Cleary after she was framed for treason, and she's out to clear her name and unravel conspiracies and treachery and all that. Naturally, this will involve an awful lot of sneaking. Have a look:
I've seen grumbling about its look before, but I think Minor Key do well with the resources they have and form an attractive and coherent style within those limitations. Given the choice between having a first-person 3D stealth game from them or not, pssh, that's a no-brainer.
Neon Struct is coming to Windows, Mac, and Linux. Its development blog is good reading too.