New Beyond Good & Evil Confirmed With Adorable Pig
Desire was never a secret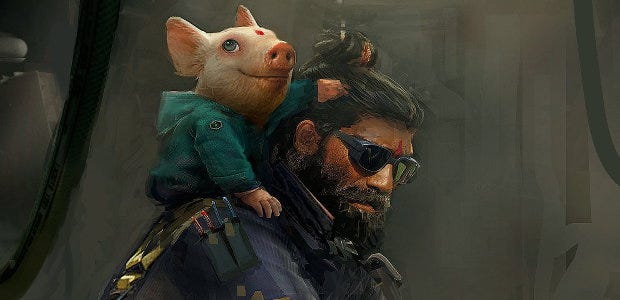 If you've been keenly awaiting Beyond Good & Evil 2 these eight long years, hanging on the edge of your seat for so long that your flesh has grown into the fabric and you'll need to be cut out, good news: Ubisoft have confirmed... something that is likely Beyond Good & Evil 2. They're definitely doing a new Beyond Good & Evil, at least. We've known about their desire to for yonks, thanks to irregular mentions and reassurances, but making even a vague announcement suggests they're cracking on with it. Series creator Michel Ancel has been blasting concept art around too.
Ubisoft splorped out a teensy announcement today, saying:
"We are delighted to confirm that Michel Ancel is currently working with the Ubisoft Montpellier Studio on a new Beyond Good & Evil game."
Okay!
Ancel himself said this week that they're "in pre-production" on whatever it is. I do hesitate to call the game 'Beyond Good & Evil 2' because they don't quite say that, and I do wonder if this concept art Ancel shared is a baby Pey'j with Jade's pa:
https://www.instagram.com/p/BK2aRqvAC2S/
Which might hint at a prequel? Or larking about across past and present? Or not. It could be anyone or indicate anything. I'll not get tied up in speculation, given how little we know about the game. The announcement trailer, with Pey'j and Jade and their crapped-out car, could be nothing to do with the current game. Or everything. Same goes for the video widely assumed to be a leaked demo/concept.
All I know is, this sharkman is proper grim:
https://www.instagram.com/p/BK7ZwcYgNim/
But here's a friendly fella:
https://www.instagram.com/p/BLJ-Y8EAqCZ/
Now please tell me more about that beautiful little angel of a pig, thank you.
Oh, and if you've not played the first game - it'll be free for a month through Uplay from next Wednesday, October 12th.