Night In The Woods Likely Delayed Til 2016
A while from the woods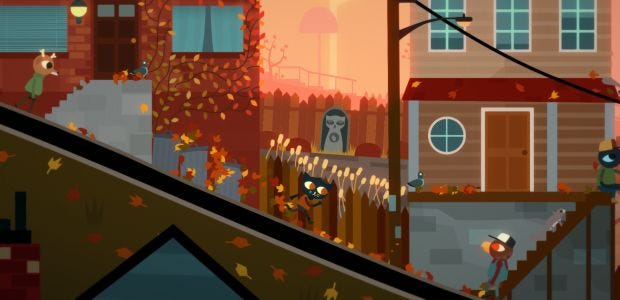 "Sad news from other people at GDC" time: Eurogamer are reporting that Night In The Woods [official site] is probably going to be a 2016 release rather than a game to be played this current sun-cycle.
Night In The Woods is a game I became interested in having played Lost Constellation over Christmas. NITW focuses on Mae, a cat who drops out of college and returns home. It's about that period of change where you've outgrown home but not quite found your next thing yet.
Lost Constellation was a different thing - a supplemental fairystory set in the same universe - but with a wonderful sense of place and a bite in the telling which kept it from cloying twee-ness.
As per their official information page the team had been aiming for a 2015 release but, according to Eurogamer Scott Benson, one of the developers, now thinks 2016 is far more likely.
In the meantime, if you haven't played Lost Constellation I suggest you give it a whirl, especially if you're looking for a quirky, spooky fairytale to play while the evenings still have a chill to them. (It's pay-what-you-fancy over on Itch.io)