Night in the Woods trailer tooled up for January launch
Wait, knife fights?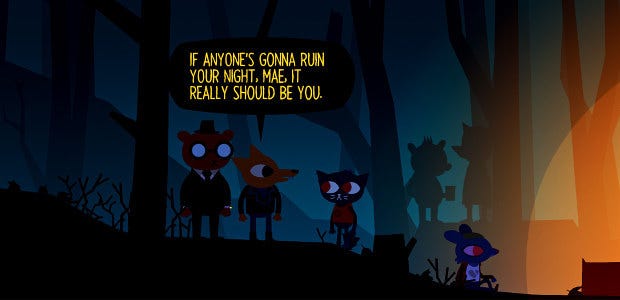 The launch of Night in the Woods [official site] on may be an entire year away, on January 10th in 2017, but- oh god, that's really soon. Everything that seemed a year away is now almost tomorrow. I can't handle a feline dropout's problems now - I've barely started on this dropout's. But life, as I'm told it often will, keeps on rolling. So fine, let's get into it, let's enjoy a delightful new trailer looking at the explore-o-adventure game's beautiful cartoon world, knife fights, and mystery of what might be in the trees.
Ooh that's good stuff. I want to explore that city. I want to poke about that forest. I want to chat with those animals. I want to... wait, it's got knife fights and Guitar Hero strumming? I did not know that.
To explain more of what's going on in that trailer, here's the official blurb:
"College dropout Mae Borowski returns home to the crumbling former mining town of Possum Springs seeking to resume her aimless former life and reconnect with the friends she left behind. But things aren't the same. Home seems different now and her friends have grown and changed. Leaves are falling and the wind is growing colder. Strange things are happening as the light fades.

"And there's something in the woods."
Aces.
Night in the Woods is coming to Windows, Mac, and Linux on January 10th, 2017. That's terrifyingly close. Even after a Kickstarter in 2013, two years of delays, and a free short side-game, it seems to have crept up awful quickly. Smashing.