Nuns On The Run: New Hitman Trailer Is Dumb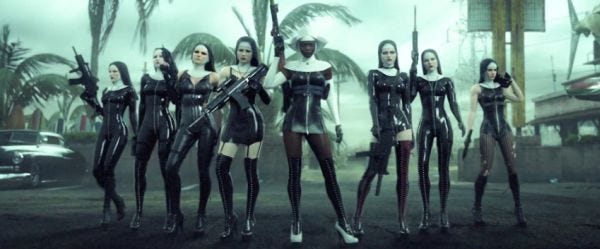 A very CGI trailer for the new Hitman is, well, odd. It's Agent 47 murdering a collection of scantily clad women, who were moments earlier dressed as nuns. It's a trailer that is to feminism what cricket balls are to genitals. You can watch the Tarantino wet dream below.
It's "an action-packed thrill ride, reflecting the very special vibe and atmosphere you can expect in HITMAN: ABSOLUTION™ when it launches globally on November 20," according to the press release.
As a trailer it fails on a few levels. Firstly, on the level of actually trailing anything. Secondly, it's clearly not a meaningful representation of the game. Thirdly, it's tacky like a tar-covered glue stick.
But there we go - the sexual fantasy of chaste women revealing their sexuality, immediately before being murdered, is there for us all to enjoy.