HP's Omen X 65 Nvidia BFGD now has an added soundbar, but no one knows if it's permanent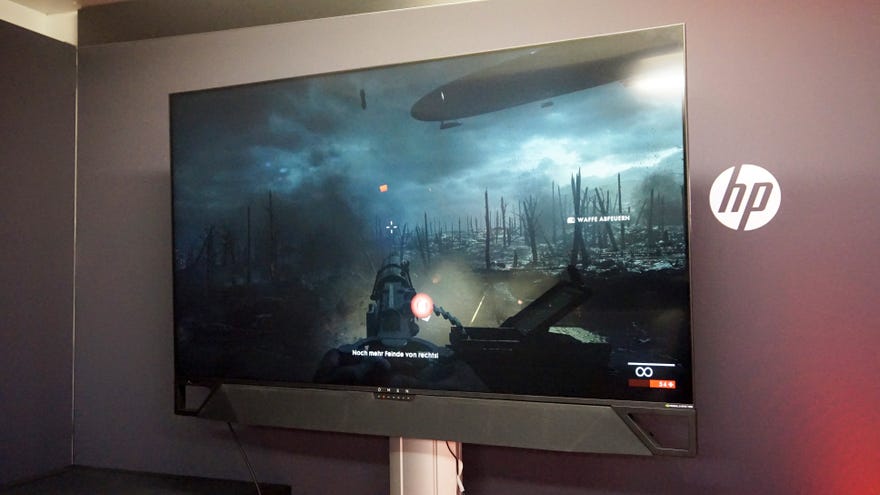 It's been quite some time since we heard anything concrete about what's going on with Nvidia's BFGDs (or Big Format Gaming Displays for the acronym-averse). After their initial unveiling back in January 2018 at Las Vegas tech shindig CES, there's been a big old pile of nothing regarding these giant 65in G-Sync HDR monitors, and we still don't know when they're actually coming out, how much they're going to cost or whether there will be different, cheaper types of BFGDs further down the line once the initial three models from Asus, Acer and HP finally come out.
At Gamescom, however, I got my first glimpse of HP's Omen X 65 effort - and it turns out it's changed quite a bit since the first concept image they released nine months ago. Now packing a whopping great soundbar at the bottom, this giant TV-esque monitor is quite a sight to behold.
For starters, it's absolutely massive - not just because it measures 65in across the diagonal, but because there's a heck of a lot of tech packed in round the back, making this considerably fatter than your typical 65in TV. In a former life I used to review TVs for a living, and I'd have to say this is arguably the chunkiest 65in screen I've seen in quite some time.
Its bezels are still reasonably slim round the side, measuring at a guess around 10-15mm, but it quickly fills out when you have a nose behind it. It's difficult to say exactly how thick it is without proper specs - which HP weren't able to provide me with at the time - but needless to say, this rather puts paid to any dreams of wall-mounting this thing like a kind of TV painting as per HP's initial concept image. Indeed, HP's own BFGD setup employed the use of a rather large and industrial-looking TV stand to help keep it aloft in their Gamescom press area, so I'd imagine anyone with similar ideas of wall-mounting it would probably need an equally robust setup installed at home to get the same effect.
Unfortunately, I couldn't see much in the way of input connections beyond two USB ports sticking out the side due to the whole contraption being pressed up against a wall, but just in case you weren't sure this was definitely a gaming display, you'll no doubt be pleased to hear that the rear not only involves heavy use of the same patterned grille effect you'll find on HP's Omen X 17 laptop to help keep everything cool, but that there's also a dash of RGB lighting across the top of it (because no gaming screen worth their salt could possibly escape having at least some sort of RGB lighting on it, apparently).
I should point out, of course, that this isn't the final design of the Omen X 65, so it may well get slimmer and less industrial-looking once it actually comes out. In its defence, the front of HP's BFGD still looks pretty damn nice. The bezels here are even slimmer - probably closer to 5mm all the way round, I reckon - and apart from a small Omen logo in the centre and an Nvidia G-Sync HDR logo in the lower right corner, it's delightfully free of any other overly gamer-y embellishments.
The newly-added soundbar obviously doesn't help matters when it comes to taking in the overall size of the thing, but the hilarious thing is that it might not even be there when it eventually hits mass production, as HP told me they were still experimenting with its overall design. All the underlying hardware (that is, its 4K resolution, 120Hz refresh rate, G-Sync HDR support and built-in Nvidia Shield streaming doodad) is exactly the same as the model they showed off at CES, but right now the inclusion of a soundbar is still up in the air.
Personally, I think it would be a good idea if they did go down the soundbar route (provided it was actually decent and not a terrible cheap one), as it would likely give the HP version something unique compared to its nigh-on identical Asus and Acer rivals. Likewise, a soundbar would almost certainly provide a better overall sound experience than the piddly kind of speakers you normally get in flatscreen TVs.
The downside, of course, is that it would probably add a significant chunk of extra change onto its overall cost, which, given the $2000 / £2300-odd asking price of Nvidia's current 27in G-Sync HDR displays right now such as the Asus ROG Swift PG27UQ, would almost certainly put it out of reach of almost everyone looking to potentially buy one.
Hopefully, we'll have a better idea of what to expect and how much it will murder our bank accounts when next year's CES rolls around on January 8, as HP told me they'll almost certainly take that opportunity to finally announce the Omen X 65's official price before they start shipping it sometime in 2019. Will the soundbar remain in tact? I'll be taking bets for the next four months.