Nvidia GeForce RTX 4070 price, specs, release date, and everything else you need to know
Get to know the latest, 1440p-focused RTX 40 graphics card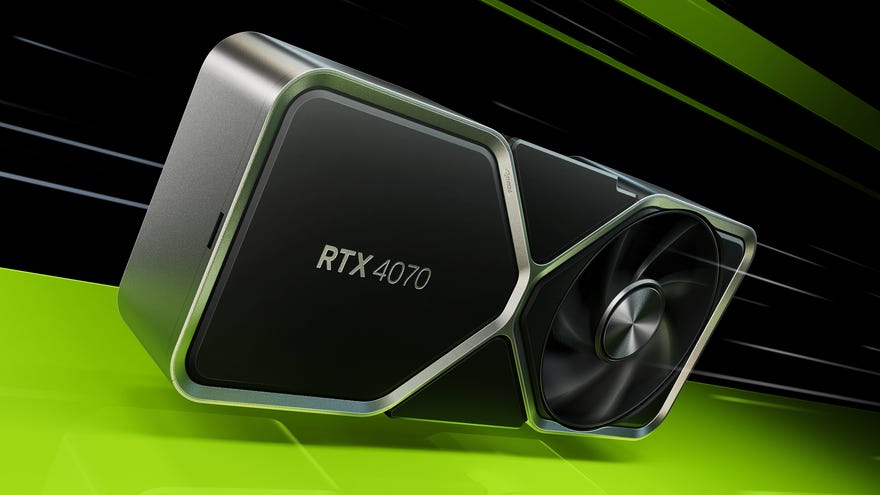 Update: Our RTX 4070 review is now live! Also it's on sale now but that's less important.
Nvidia have announced the GeForce RTX 4070, a 1440p warrior joining the RTX 4070 Ti and RTX 4080 in a collection of largely 4K-minded RTX 40 series GPUs.
The green team also pitched the RTX 4070 Ti as a powerful Quad HD component, though between its 4K capability and RTX 4080-busting price, I still say it's best paired with a 4K monitor. Although the RTX 4070 will carry on the RTX 40 trend of premium prices – £589 in the UK, $599 in the US – it will undercut the RTX 3080, targeting 100fps+ at 1440p with ray tracing and DLSS 3. The latter, of course, being an advantage the older 30 series doesn't have.
The RTX 4070 will go on sale tomorrow, with a worldwide release date of April 13th. I'll have a review of a board partner model ready for then, so in the meantime, here are the details I'm not current embargoed up to the nines for – including the full specs and Nvidia's performance data.
---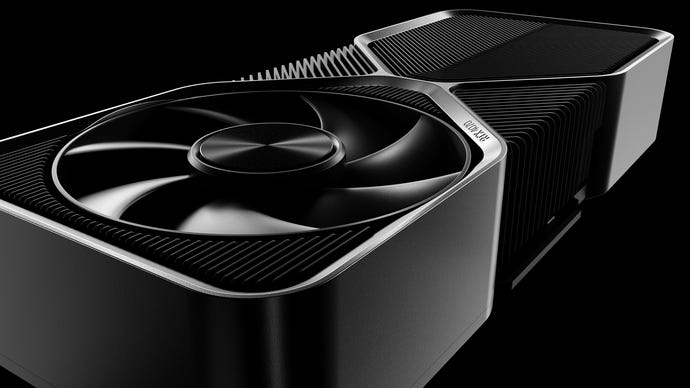 Nvidia GeForce RTX 4070 price
Word from Nvidia is that the RTX 4070 will launch with UK RRP of £589 and a US MSRP of $599. As with the £799 / $799 RTX 4070 Ti, you can expect this to be the base price for lower-end (relatively speaking) models, with overclocked and otherwise souped-up partner cards costing more.
It's hard not to look at this price, recall how the RTX 3070 released at £469 / $499, and stare wistfully out of the nearest rain-slicked window. This might be the cheapest RTX 40 series GPU so far, but it's still intensifying the financial strain of a potential graphics card upgrade, just like the rest of the current GPU generation.
It's worth noting that partner variants of the RTX 3070 routinely sell for £500 and upward, so the price gap isn't as vast as it might've been if the older model had dropped much at all over its two years on sale (as we all know, it spent much of that time doing the opposite). Nvidia also appear to be pitching the RTX 4070 as a cheaper alternative/replacement to the higher-end RTX 3080: the RTX 4070 apparently performs similarly without DLSS 3, and can use the upscaler's frame generation feature to open up an overall lead on the RTX 3080. Only a few dozen games support DLSS 3 in full, though there's no arguing that the RTX 4070 is cheaper, what with RTX 3080 variants still fetching around £700.
---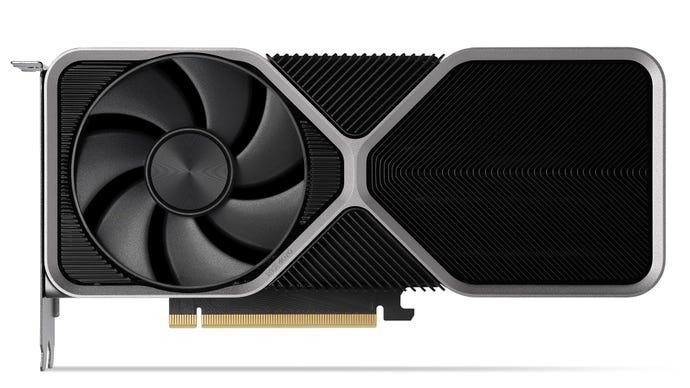 Nvidia GeForce RTX 4070 release date and availability
The RTX 4070 will release worldwide on Thursday, April 13th. That goes for any and all custom/overclocked/board partner models, as well as Nvidia's own Founders Edition (pictured above).
The latter could be your best shot of grabbing an RTX 4070 at RRP/MSRP, depending on how many of Nvidia's partnered manufacturers opt to release base priced models, though it won't be as widely available as the inevitable glut of custom cards. Then again, the RTX 40 family has thus far avoided the stock barrenness that befell the RTX 30 series, and given the RTX 4070 is still a pretty pricey GPU, I don't forsee much issue in finding one available on the 13th.
---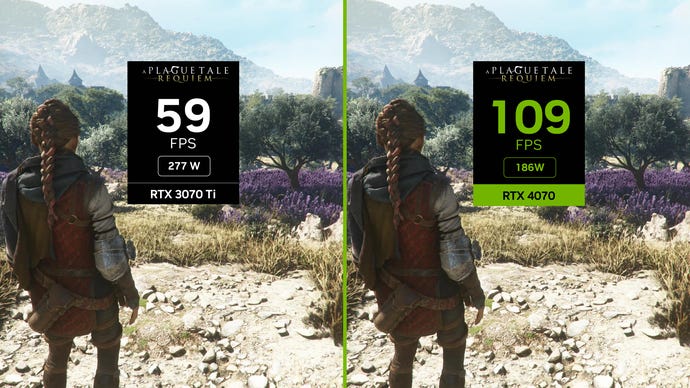 Nvidia GeForce RTX 4070 specs
The RTX 4070 is built around the same Nvidia AD104 processor as the RTX 4070 Ti, albeit a downtuned version. That means fewer shader cores (or CUDA cores, in brand-speak) and a drop in the number of RT and Tensor cores, for ray tracing and GeForce's AI-assisted features respectively. In fact, the RTX 4070 has the exact same RT and Tensor core counts as the RTX 3070, though since the 4070's Ada Lovelace architecture makes generational upgrades on both, each core should perform better on the new model. VRAM gets an upgrade too: maybe not so much the interface, but by matching the RTX 4070 Ti's 12GB of GDDR6X, the RTX 4070's video memory is both faster and more plentiful than that of its predecessor.
Here's how the RTX 4070 specs measure up against its closest RTX 40 series relative, as well as the RTX 3070:
| | RTX 4070 | RTX 4070 Ti | RTX 3070 |
| --- | --- | --- | --- |
| GPU | AD104 | AD104 | GA104 |
| CUDA cores | 5888 | 7680 | 5888 |
| RT cores | 46 (3rd gen) | 60 (3rd gen) | 46 (2nd gen) |
| Tensor cores | 184 (4th gen) | 249 (4th gen) | 184 (3rd gen) |
| Boost clock | 2475MHz | 2610MHz | 1725MHz |
| VRAM | 12GB GDDR6X | 12GB GDDR6X | 8GB GDDR6 |
| Memory interface | 192-bit | 192-bit | 256-bit |
| Memory bandwidth | 504GB/s | 504GB/s | 448GB/s |
| Total power usage | 200W | 285W | 220W |
One strength of the RTX 4070 could turn out to be its efficiency. It's nice to see Ada Lovelace's power usage improvements actually reflected in a 40 series GPU, especially with electricity bills shooting up like... well, a the price of a new graphics card, let's be honest.
The RTX 4070 won't be hitting 200W constantly, either. Nvidia say its "average gaming power", i.e. the average usage you'd see while running games, is 186W. That's down from an average gaming power of 215W on the RTX 3070 and especially down from 240W on the RTX 3070 Ti, which is also rated at 290W maximum.
---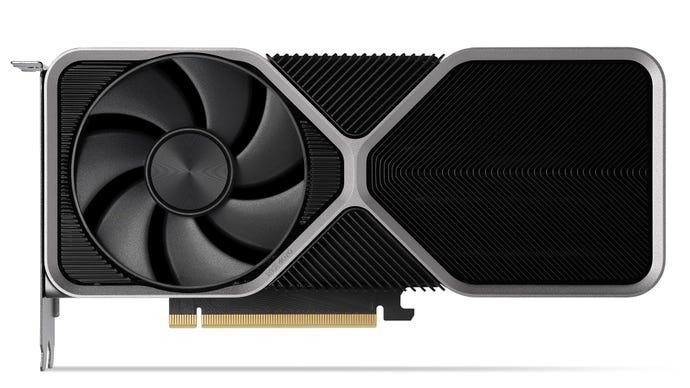 Nvidia GeForce RTX 4070 performance
I can't share my own benchmarks until launch day, so for now here's a big green graph from Nvidia themselves. It largely suggests that even when running games with maxed-out quality and ray tracing enabled, the RTX 4070 can use DLSS to sail past 100fps at 1440p. It doesn't specify which quality level of DLSS these benchmarks used, however: remember that its Ultra Performance setting will be much faster, but nowhere near as sharp-looking, as its Quality and Balanced modes.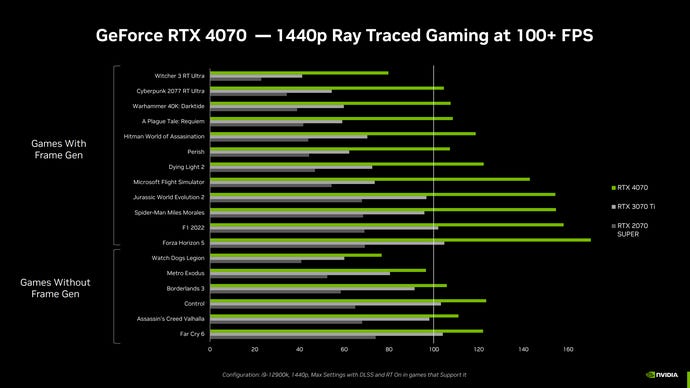 It's also strange that Nvidia didn't include RTX 3080 results, given the RTX 4070 is supposed to match it on base performance (before overwhelming the pricier card with a burst of DLSS 3 frame generation). Our most useful point of comparison thus becomes the RTX 3070 Ti, which is consistently about 15-20fps slower than the RTX 4070 without frame generation and 40-60fps slower in games that support it.
---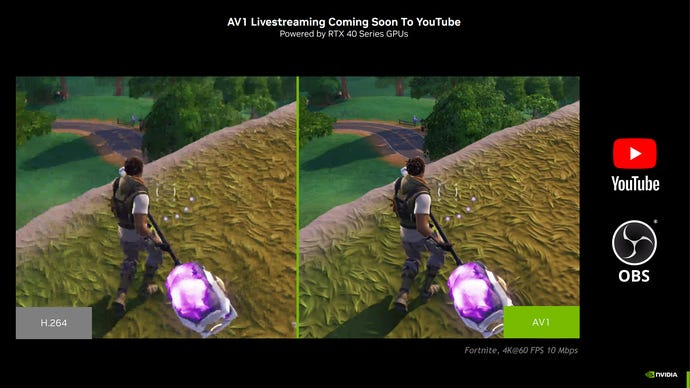 Nvidia GeForce RTX 4070 features
You can probably tell from the fact that I've mentioned it four times already, but the most useful tool in the RTX 4070's kit is almost definitely its DLSS 3 support. Like every card in its series, right up to the RTX 4090, the RTX 4070 will be able to combine DLSS's class-leading upscaling with interpolated, AI-generated frames that could double or even triple average FPS. In the games that support this frame generation, anyway.
While DLSS 3 adds to system latency, more so than can be countered entirely with Nvidia Reflex, it is a nifty bit of tech that can make 60fps games look like 120fps games. And, as expensive as the RTX 4070 is, it lowers the barrier to DLSS 3 entry quite considerably from the RTX 4070 Ti.
The RTX 4070's DLSS 3 compatibility and Tensor-powered AI smarts could also make it an ideal platform for Nvidia's RTX Remix mod tools, which we're previously seen produce impressive results in Portal with RTX. Or, if you're into game streaming, the RTX 4070 supports AV1 encoding out of the box. AV1 has a very good chance of becoming the video streaming format to beat, enabling higher quality footage at far more efficient bitrates than the current standard, H.264.
Looking at the Founders Edition specifically, it appears to have dropped the RTX 3070's dual fan design in favour of the "flow through" cooler layout of the RTX 4080 and RTX 4090. Its axial fans also shift 20% more air than the fans on the RTX 3070 Ti, according to Nvidia. Expect a more conventional mix of twin and triple fan coolers on the custom/partner models.