Oh, Ubisoft: Torrented Their Own Music?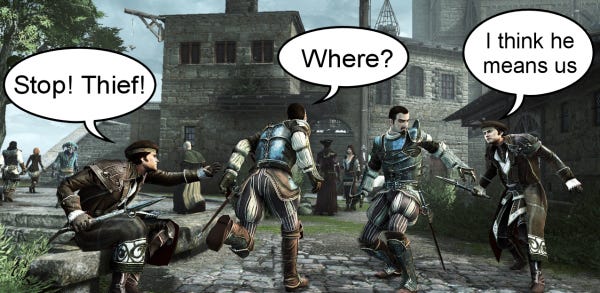 Ubisoft, you do like making mistakes. The publisher's strange habit of incorporating piracy into their products seems to have reared once more. Remember back in 2008 when they thought it would be a good idea to officially patch Rainbow Six Vegas 2 with an illegal NO-CD crack? Today Eurogamer brings us news that those copyright infringing scamps may have been at it again. This time it looks like they've included a torrented version of their own soundtrack in the Digital Deluxe Edition of Assassin's Creed: Brotherhood on PC.
The proof comes from the internet's infinite source of information, Reddit. It seems the mp3s that come with a Brotherhood pre-order were originally encoded as FLAC files by one arsa13. If the Reddit user is right, Ubisoft then apparently converted them to mp3 and stuck them on the game.
Which seems an odd thing to have done, since surely they'd have the original master version of their own OST from which to generate mp3s? Clearly some well ripped FLACs are going to be of the highest quality, so a good source if someone wanted a top-notch version. But perhaps not the ideal choice by the major publisher who makes the loudest, stupidest noises about piracy. Could this really be the second time Ubisoft has sold pirated material in its DRM-afflicted products?
Eurogamer says that Ubisoft are now investigating the matter. Mix up? Incorrect information from Reddit? Moment of madness by a silly employee? Piracy rife amongst Ubisoft? If you've pre-ordered a copy of Assassin's Creed: Brotherhood, let us know if your mp3s are equally dodgy.