One of the fastest SSDs, Solidigm's P44 Pro 1TB, is down to $69.99 at Amazon
An incredibly low price for a 7000MB/s PCIe 4.0 SSD made by SK Hynix.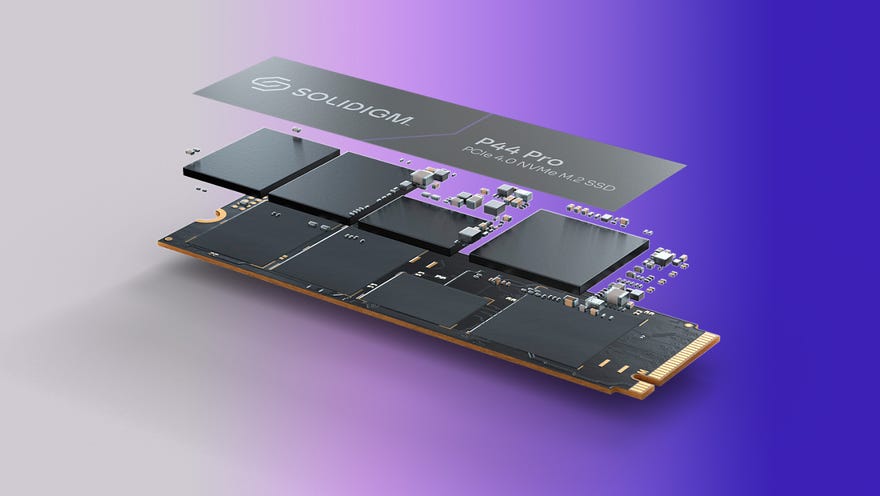 When it comes to SSDs, the brands we probably think about most often are WD, Samsung, Crucial and Kioxia, each of which creates their own flash memory. However, we're missing the fifth place NAND flash memory manufacturer, another brand that creates their own flash memory and controllers: SK Hynix, or as their consumer brand is labelled, Solidigm (meant to rhyme with paradigm for some reason).
I recently upgraded a laptop I'm testing with their P44 Pro 1TB drive, and I've been thrilled with its performance - and now, this drive has hit a scorchingly hot price on Amazon US. You can now pick up this drive for just $69.99 after a 44% discount from its US MSRP of $124.99, an incredible price for a high-end PCIe 4.0 drive.
As well as boasting impressive sequential performance, with 7000MB/s reads and 6500MB/s on this capacity, the drive also boasts ludicrously fast random performance - up to 1.4M IOPS for reads and 1.3M IOPS for writes, putting it alongside some of the fastest gaming SSDs like the WD SN850x and Samsung 990 Pro. This is down to the drive's use of all SK Hynix components, from the Aries controller to 176-layer TLC NAND flash memory and LPDDR4 DRAM cache. This tight integration allows the drive to outcompete basically everything else on the market, only falling behind PCIe 5.0 SSDs that have just barely started to reach reviewers.
It's not just in the quoted specs that the drive impresses either. Beyond my own use, Tom's Hardware and TechPowerUp have also posted glowing reviews of the drive, citing its incredible real-world speeds, lack of thermal throttling, excellent sustained performance, five-year warranty and power efficiency. For a drive that isn't made by the likes of Samsung and WD, this is pretty impressive stuff - and perhaps speaks to why SK Hynix wanted to start making their own high-end consumer SSDs rather than just selling their components to third parties.

In any case, this a fantastic deal and I recommend you check out some reviews on your own, then pick up this SSD if you're in the market for one!