One of the very fastest SSDs is down to £75 for 1TB at Amazon UK
Corsair's MP600 Pro LPX is a fantastic fit for PC or PS5.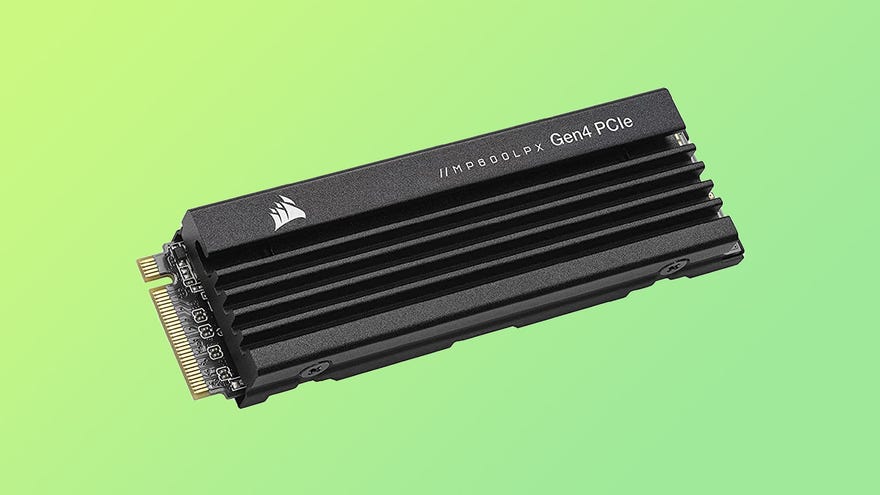 The Corsair MP600 Pro LPX is a high-end PCIe 4.0 SSD with TLC flash memory and a DRAM cache, and I'd rank it right behind the (more expensive) Samsung 990 Pro and WD SN850x as the best gaming SSD on the market. Unlike those drives though, the MP600 Pro LPX comes with a heatsink by default and is often priced more aggressively, making it a great value choice that doesn't sacrifice performance. Today this drive has dropped to £74.98 on Amazon UK, a historic low price that makes it easy to justify an SSD upgrade for your PC or PS5.
I'd recommend this drive for higher-end PC builds, especially for people that mix gaming with video production or other tasks that really benefit from fast SSD storage. This drive performs better than those new-fangled PCIe 5.0 SSDs, and works on a wider range of motherboards, laptops and consoles too.
PCIe 4.0 was added in AMD's 500-series (B550, X570) motherboards and some Intel 400-series (Z490) boards, so anything after this from the B, X or Z lines should mean you're good to go! You can always double-check this by Googling your motherboard or laptop model and checking its features for PCIe 4.0 or PCIe 5.0 support.
Here's what I said about its speeds and feeds the last time we featured this rather excellent SSD:
...its sequential speeds of 7100MB/s for reads and 6800MB/s place it amongst the upper echelons of PCIe 4.0 drives, but its incredible random speeds of up to 1.0M IOPS reads and 1.2M IOPS writes also mean it's one of the fastest drives for game loads too. Those specs should put it amongst the recently released Samsung 990 Pro and WD SN850x, or maybe half a step behind, but well ahead of SATA drives, PCIe 3.0 drives and even 'first-gen' PCIe 4.0 drives that often topped out around 500K IOPS.
Overall then, this is an awesome price for a full-speed PCIe 4.0 SSD in the popular 1TB size, so do consider picking up the MP600 Pro LPX if you're in the market for something like this!