Paragon Adds Thorny New Hero Next Week
Pixie dust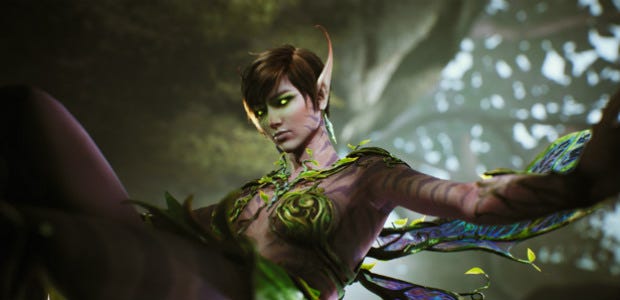 Paragon [official site] is getting a new hero in the tiny but mighty fairy fighter The Fey. She's a support character harnessing the power of nature to really annoy the opposition. She specializes in crowd control and commands a number of area of effect abilities to ensnare your foes while doling out blasts of pixie dust (fine, energy damage).
The Fey's abilities see her manipulating assorted prickly greenery. The ability Untamed Growth tosses an explosive plant at your enemies that does damage within an area of effect over time. She also has command of the Bramble Patch ability that casts a thorny line of sharp brambles to slow down opponents. Sounds like The Fey likes to play dirty--fun to play, but incredibly frustrating to face off against. Her third ability, Harvest Nettles restores mana if the hit is successful.
Her Ultimate, staying true to the botany theme, is called Fly Trap, summoning a massive plant that drags in baddies and deals a real beating.
Her announcement trailer shows The Fey in action, spreading helpings of glitter dust and hurt across the land with a twirl and a flutter. Check it out:
The Fey is free to Early Access players starting Tuesday, August 2. Epic Games has a number of Early Access Packs starting at $19.99 that will give you a head start in Paragon before the free open beta begins on August 16.