Path of Exile Expansion Launching Next Week
Tunnels of flesh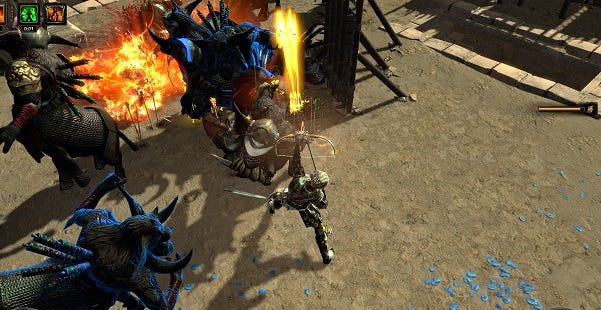 Where fellow action-RPGs Diablo III and Torchlight exulted in bright colors and a brazen use of particle effects, the free-to-play Path of Exile [official site] took a darker turn, wearing its grime like a king's crown. And it did well that way, honestly. Our very own Adam called it a "smart and content-rich RPG." And said smart and content-rich RPG will see its newest expansion, titled The Awakening, come July 10th.
The new update will introduce Act Four in this ongoing grimdark saga, and something known as the Beast. It is definitely an unpleasant fellow, if the screenshots are any indication of its overall attractiveness. More crucially, it looks like the Beast can be physically entered, and not in that fun way your parents refuse to talk about. The webpage details gruesome sights such as "a blinking cathedral of a thousand eyes" and "twisting tunnels of flesh." As an added bonus, you'll also be able to fight dudes that the Beast has consumed.
Narrative stuff aside, The Awakening will add a host of interface improvements, fresh customization options, and what is touted as a complete rebalancing of everything. Very thorough. In addition, we also have new skills (elemental golems are everyone's jams), new jewels, more than a hundred new items, and two new Challenge Leagues for those who feel the deep urge to prove themselves against other people.