Phoenix Point will be playable at EGX Rezzed
X-COM on down!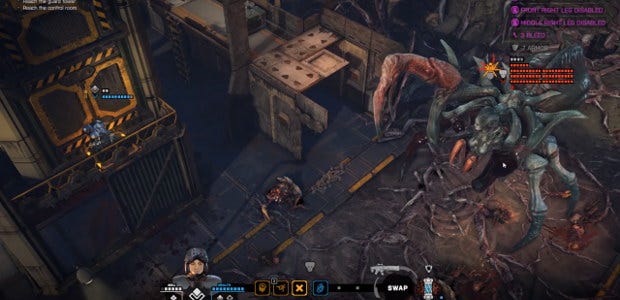 Our corporate siblings who run EGX Rezzed go on about how it's a games show with all sorts of video games to play and talks to hear, but in reality it's a front. Rezzed exists because we believe you will pay money to breathe the same air as RPS staffers, getting some of our air inside you and some of yours in us, but both sides are too embarrassed to publicly acknowledge that. So sure, okay, let's keep up the facade. For example: Rezzed today announced more of the games playable in London this April, including X-COM co-creator Jullian Gollop's fine-looking grid 'em up Phoenix Point.
As well as being playable on the show floor, the Rezzers say, Phoenix Point will be chat-o-demonstrated by Gollop on the Saturday. That will be livestreamed for non-attendees too but, as we've established, if you pay money to attend you will be able to share air with him too.
Over-doing the whole 'games show' excuse so much that it's starting to look suspicious, the Rezzers also confirmed another six games. Those are cartoony platformer The Adventure Pals, daydreaming fly 'em up Ava Airborne, physics-based stuntbike smackdown Steel Rats, space-inverting puzzle-platformer Shift Quantum, the weird spacemilking Space Cows, and cooperative first-person ratbasher Warhammer: Vermintide 2. I know Vermin2ide will be properly out and buyable before Rezzed, but it is nice to have a bash and RPS regulations do demand the presence of Warhammer.
The full list of games confirmed so far is this-a-way.
I hadn't heard of Adventure Pals before and it looks cute so here:
EGX Rezzed 2018 is at Tobacco Dock in London from Friday the 13th of April through to Sunday the 15th. Tickets are £17.50 for one day.
I believe most of the RPS gang will be at Rezzed this year, including hanging around in a pub and buying YOU drinks. I won't be there because mate do you know how rare it is to get the RPS treehouse to myself? I intend to kick back, take control of the radio, open the windows, and wander around in my pants tbh. And finally I'll be able to throw out the jar of Kieron's toenail clippings that John is so protective of.