Pikuniku is a colourful dystopian puzzler
Blob-a-job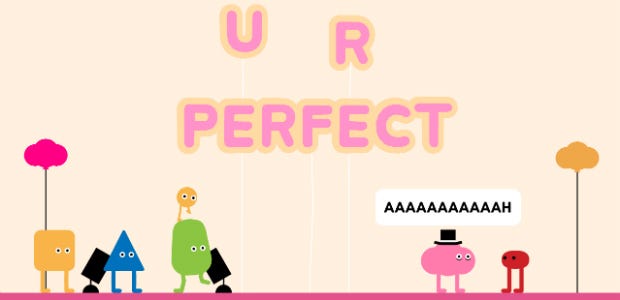 The excellently-named Pikuniku [official site] might just be the most colourful dystopian adventure ever. You're a red blob with gloriously wobbly legs exploring a bright world, partying with other blobs and solving environmental puzzles. But there are murky undertones, with the promise of "deep state conspiracies", giant underground worms and, er, "aggressive toast". Yeah. It's coming out sometime next year so, for now, check out the announcement trailer.
As the blob, you have to stop the game's town falling apart by completing tasks set by other characters and solve the mystery of the chaos that's bubbling beneath the surface.
The co-op mode is standalone, and doesn't factor into the story, but seems to fit well with the environmental challenges: one character stands on a button to release an oasis of water that sends its friend surging into the air, from example.
I'm not fully sold on the tone yet. I'm sure its quips about "dank parties" and the like are meant to be ironic but, if that's all there is, it could stop being funny quickly. But the contrast between the splashes of colour and a town on the verge of collapse could be interesting. It's one I'll be keeping an eye on.
Pikuniku is developed by Sectordub, the team of Arnaud De Bock (of Reigns), Remi Forcadell (Giraffes Volleyball Championship 2016), Alan Zucconi (0rbitalis), and Calum Bowen (of Lovely Planet). It's published by Devolver Digital, who have a penchant for the absurd (Hotline Miami, Genital Jousting, etc).