Not So Long: Pillars Of Eternity Release Date Is March 26th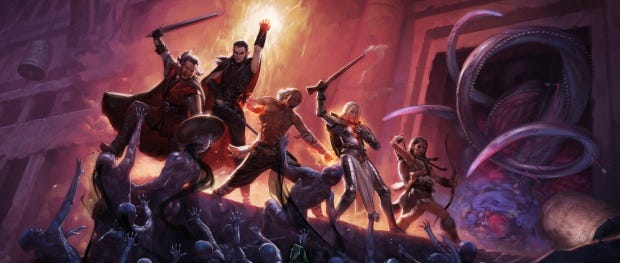 The beta of Pillars of Eternity has been available to backers of its hyper-successful Kickstarter projcet since August last year, but now the frugal wait-and-sees (like me) know when the game will be finished: March 26th. There'll also be a livestream from project director Josh Sawyer tomorrow at 9pm GMT/1pm PST to show some of the recently added and revised content.
[A joke about there being a word referring to time in the title hahah]
Pillars launched on Kickstarter as Project Eternity and promised an isometric, party-based RPG like the days, and one that would be developed by Obsidian Entertainment and include work from Chris Avellone, Tim Cain, Josh Sawyer and Feargus Urquhart, who had hands in everything from Fallout to Planescape to Vampire: The Masquerade – Bloodlines. It was largely memories of those games that drove the Kickstarter well beyond its $1.1 million target to $3.9 million.
The backer beta wooed Adam enough to think it might live up to Baldur's Gate, and he also took the time to interview Sawyer at length.
I clearly don't have any further news to add, but perhaps when the game is released, you will ask it to...