Gunbot Diplomacy: Play Portal 2 With PS3ers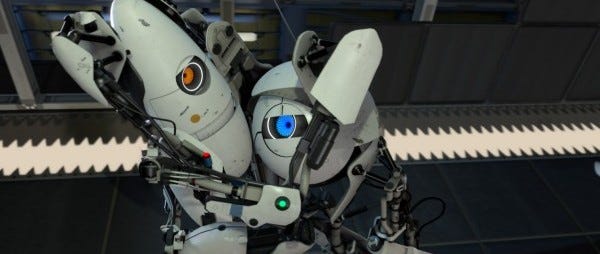 Trust a game about the creation of impossible pathways to feature cross-platform play between PC and PS3. Yes! Valve has announced that Portal 2's new co-operative mode will allow PC gamers to play the game with anyone playing the game on a PS3. There'll be cross-platform chat, too, though those guys might be a little quiet compared to us as unlike the 360 the PS3 doesn't come with a headset as standard. Anyway, that's not the only PC-related bonus that PS3 owners will be getting.

Anybody who buys Portal 2 on the PS3 will be able to link their Playstation Network account with their Steam account to receive a copy of Portal 2 on PC at no extra cost via the SteamPlay initiative, which up until now has simply meant that Mac games purchased on Steam also give you the Windows equivalent, and vice versa.
Lovely news, although if I'm honest what I'd really love is the opportunity for us PC gamers to explore the broken and deeply unsettling world of Playstation Home. That'd be fun.
You want to know how messed up Playstation Home is? Ages back they created a promotional DJ Hero space in Home where one of the things you could do was win a Dizzee Rascal mask. What a lovely idea! Now, here's a picture of that idea in execution.
Brrr.