Playerunknown's Battlegrounds brings back map selection, kinda
Bit wonky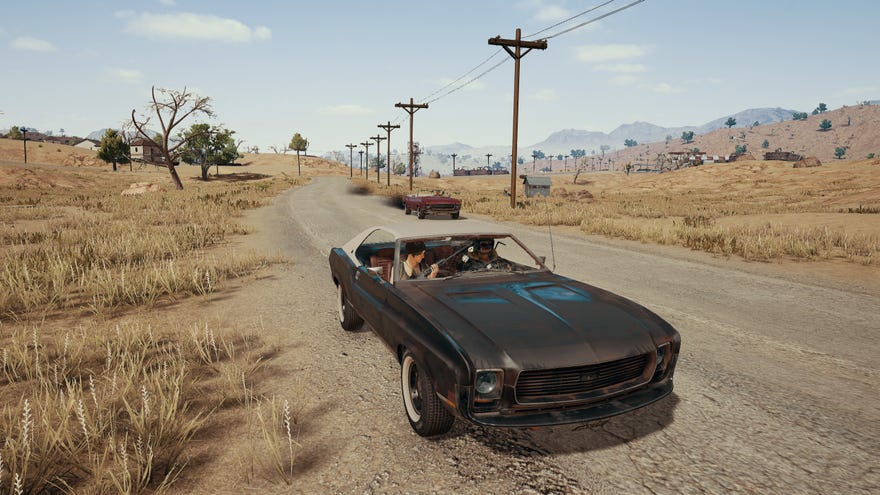 On paper, the big update which hit Playerunknown's Battlegrounds in the wee hours sounds pretty good. It adds a new anti-cheat system, brings back map selection, whacks in a ranking system to climb, and enables automatic region sorting to hopefully keep distant players from lagging up our rounds. In reality, ah, it seems little it might be a little messy.
First, individual map selection. I'd been eager for this to return and replace the system of a choice between big maps (Erangel and Miramar) or small (Sanhok) or both. And yes, while we can now pick an individual map rather than having the game choose for us, we can't pick multiple maps. You can't queue for e.g. a coin-toss between Sanhok and Erangel - only Sanhok or Erangel. So I can't just kick Miramar out the pool. It's puzzling.
Automatically sorting players into server regions, rather than letting us pick regions, also sounds handy. It's supposed to check out everyone's connections and place them on the correct servers, potentially tolling an end to distant players frustrating folks by lagging up games on servers beyond their region. In practice, reports from some players make the sorting sound kinda wonky, sometimes putting players in unsuitable laggy servers or throwing together unlikely groups from across the globe. And this also sucks for players in less-populous server regions, who at certain times can queue for aaages to find a game. This experience isn't universal, mind - it might be just fine for you.
New anti-cheat is welcome too, stamping out gits, but some are reporting performance problems with it. This new anti-cheat is optional for now, enabled by a pop-up as the game loads, but soon will become mandatory. So why would you turn it on? "To help us refine our anti-cheat service it would be helpful for us if you play with the 'Enable Anti-cheat" box checked,' the developers say. I'll probably pass for now.
It's not all wobbly in this update, mind. Nice stuff includes:
Added UI that allows players to access a quick-select wheel (similar UI with the Emote system) for the quick selection of items without opening the inventory or pressing individual hotkeys.
Players can now further magnify the minimap.
Player order between the lobby and in-game is now consistent so that players will have fixed numbers and colors based on lobby order when they enter a game.
Friend UI has been improved to show logged out / disconnected teammates.
Added a wheel menu for quick access to healing and throwable items
And there's the ranking system, with ten ranks to climb, if you're interested in that sort of thing.
See the patch notes for more on everything.
The update did also add the option to trade in a load of cosmetic bits for a higher-rarity item, but that's been temporarily disabled due to a bug which could swallow items without giving anything in return.
Developers Plunkcorp have tested adding the drop-calling flare gun to the main game in recent weeks but that's still not in yet.
If you're more plonker than Plunker, our Playerunknown's Battlegrounds guide might help you get started.