PlayerUnknown's Battlegrounds targets performance in first big patch
Chart-topper's tune-up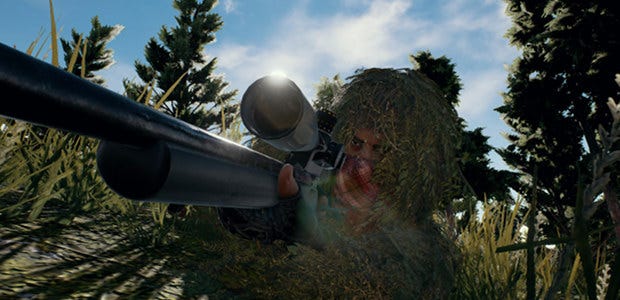 Performance improvements and new items have arrived in PlayerUnknown's Battlegrounds [official site] with today's launch of the first monthly big patch for the chart-topping early access Battle Royale 'em up. Lucky scavengers might get to ride in a motorbike with a sidecar, gun down fellow survivors with the new Vector SMG (that fancy anime-lookin' gun), and hopefully spend less time grumbling about framerates. Some players are reporting worse performance and more server problems since today's patch, mind. Tch! Early access, eh?
Many of the performance improvements in this patch focus on minimum-spec PCs but some are more wide-reaching. As for new toys, the patch brought the Vector SMG, a motorbike with a sidecar (solo motorbike to follow later), a new scope, a new mask, and new colours for the cute Dacia car. The crossbow returns too, after being removed three weeks ago.
Brendan 'PlayerUnknown' Greene said in this week's patch notes:
"This patch will the first of many to address performance, fix bugs and add new content to the game. I must stress that we will not be able to fix all performance issues with a single patch. For this patch, we focused on stabilizing performance for all users, trying to ensure there would be less FPS drops, and improve performance for those with lower spec systems. Optimizing the game will take us time, and will continue all through early access, so please have patience while we work to improve the game experience for all players."
Battlegrounds patching plans are for big monthly, smaller weekly, and occasional daily patches, remember.
I've still not played Battlegrounds myself but I have watched quite a bit on my second screen while doing other things. It looks like other Battle Royale games but less wonky, yeah? Brendy wanted Battlegrounds to do more but this seems acceptable to me. Given that Battle Royale 'em ups are still relatively new and the leading ones are all quite janky (and still in early access), the genre do with at least one solid game before it tries new things. Looking at how much MOBAs have grown, spread, and influenced over the past fifteen-odd years, I think we're still in early days for Royalers.