Playerunknown's Battlegrounds starts lobbing apples around Sanhok tonight
Oi OIII!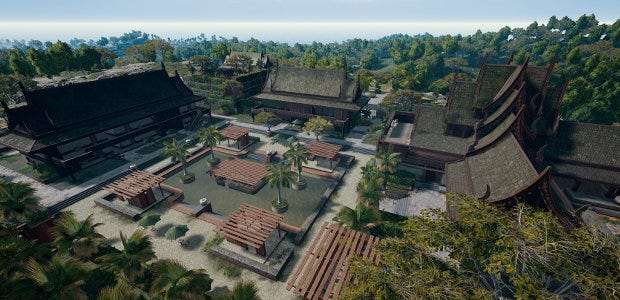 The stag & hen weekend banter of Playerunknown's Battlegrounds will enter fruity new heights tonight when the new 4x4km Southeast Asian map, now named Sanhok, enters public testing. Having previously required a key, it'll launch in the new Experimental Client overnight (at 3am UK time on Friday; 7pm Pacific on Thursday), a little more polished than before - and with the new ability to pelt each other with apples while in the lobby. Scrumping? Foodfights? Classic banter. Oi OIII heads up you wankers.
All players should tonight see something named PUBG: Experimental Server pop up in their Steam library, a whole separate client used for testing Sanhok. The map is still "a couple of months away" from being finished and launching properly, but it's looking a lot more finished than during the closed tests and is ready for a wider testing audience.
As developers PUBG Corp detail in the announcement, the new version has four new areas, including salt harvesting spots and a chuffing great cave you can skydive right down into.
A number of existing spots have been expanded, improved, and polished, and placeholder names are being replaced with real ones. Though the community vote which decided to name the hotel 'Paradise Hotel' has been overruled slightly "for legal reasons", and it's now named 'Paradise Resort'. You get the gist: it's paradise, ideal for rowdy stag & hen weekends.
I do mean it about lobbing apples; it's not some ha-ha-hilarious joke from me. The patch notes state:
Before boarding the plane, you can now throw apples (found in your inventory)
Laaads! I had missed the larks of firing guns before climbing aboard, which was removed a while back for performance reasons, and welcome these replacement antics. If new fruits aren't added as cosmetic options, I'll be very disappointed.
The changelog also notes that items and assault rifles now spawn more on Sanhok, new Aquarail styles are in, and the red zone will try to appear outside the white safe circle so "it becomes a bit more risky to play outside of the safe zone."
Oh, and here's a great "known issue" the devs are still investigating:
Sometimes other players appear as zombies.
Too many sambuca shots, yeah?
This latest test will begin at 3am this Friday in the UK (that's 7pm Thursday in the Pacific time zone) then run until noon on Monday the 14th (that's 4am Pacific).