Project Cars 2 racing out on September 22
Foot down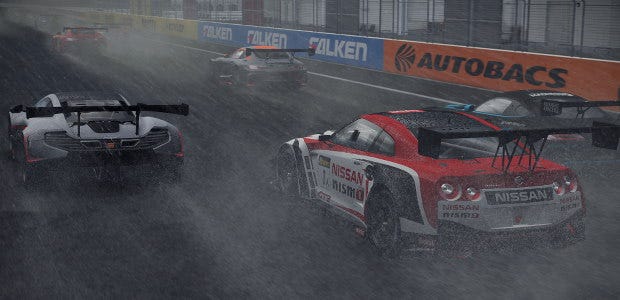 Yep. It's racing, alright. There's a new trailer for Project Cars 2 [official site], featuring — no surprise — lots of different cars racing round lots of different tracks in lots of different weather conditions. Oh, and there's a release date, too: 22 September.
Project Cars came to PC in 2015 with bugs splattered all over its windscreen and had to be quickly patched up in Slightly Mad's virtual game garage. Or wherever it is developers go to fix a game. Just six weeks after release, a sequel was announced. So, hopefully the team have had enough time to ensure that the follow-up arrives all spick and span.
If you haven't played the original, it basically aimed to be a super realistic sim, and had cars ranging from rallycross to hypercars. Project Cars 2 will be much of the same plus new features like 'loose surface' track types, co-op career, dynamic weather and more.
The video itself is an E3 "Sizzle" trailer, apparently. Whatever that means. Here it is:
I mean, it looks as you'd expect, right? Whether it's any good will depend on how the cars handle, and how they respond to all that rain. Project Cars was a decent racing sim, once all those bugs were wiped away, so folks will have high hopes for this one.