Candy Camera: Pyrovision Goggles Are Kind Of Amazing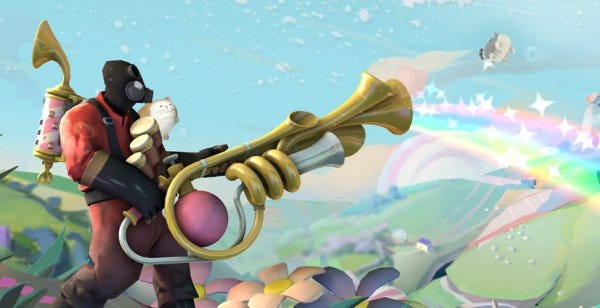 STOP: If you haven't watched Meet The Pyro yet, watch it, for goodness sake.
This morning I found myself grumbling in RPS chat about how news sites were casually spoiling the twist in the Meet The Pyro video, by posting pictures of it. Now I am going to do exactly the same thing, because you really should take a look at the Pyrovision goggles in action. Anyone who logs into the game between now and next week gets a set of goggles that mods the game world to look a bit like the Pyro's view of things, including shooting rainbows, balloon-gib deaths, and floating pink plushie unicorn. There are some videos of it in action, below.


Inevitable "it's just an easy mod anyone could make" comments will be missing the point.