QRRASE The Dead: Magicka - Other Side Of The Coin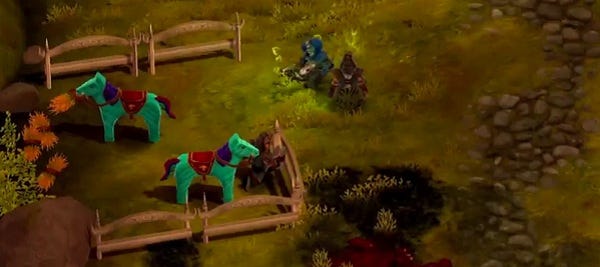 More Magicka arrives tomorrow and it's of the vampiric, necromantic variety. "Being bad feels good" it proclaims in the launch trailer below, to which I must reply that I probably killed more people while trying to be a hero in Magicka than I'll ever kill by actually putting on an evil hat and setting out to cause harm. I think I've sucked all the fun out of Magicka's jugular already and very tasty it was, but there's nothing weirdly attractive about this DLC, no Lovecraft or 'Nam, so it's probably the first one I'll pass on. I did enjoy the frolicking pinata ponies though. They were very well done.
Here's what your $4.99 or monetary equivalent will provide upon the pack's release tomorrow.
• Play as Alucart the Vampire and his henchmen, the Necromancers
• One exciting new story challenge set among beautiful new elven architecture
• 4 new challenge maps playing as necromancers: World's End, Volcano Hideout, OSOTC Arena and the Mirror Crystal Cavern Hideout.
• Necromancer introduced to PvP
• New achivements