Quake Champions brings back The Longest Yard and some fun arcade playmodes
I'm the king of the swingers~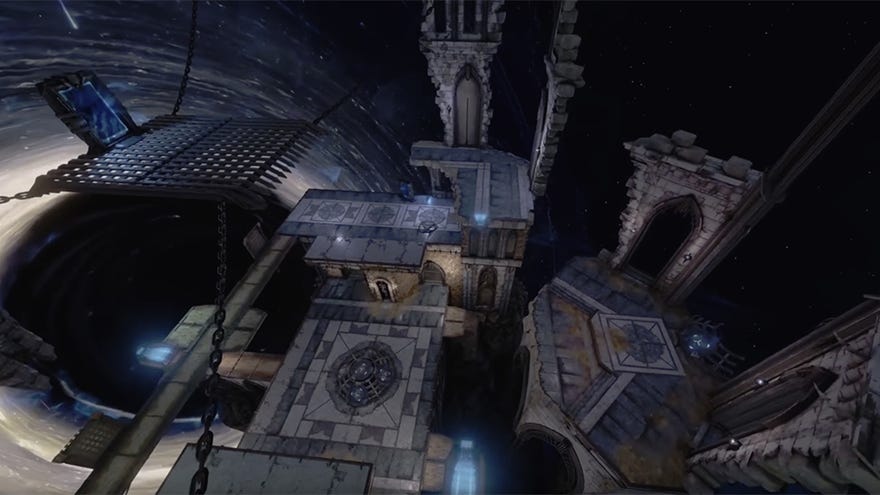 Big changes for Quake Champions today. Id's twitchy (and now free-to-play) arena FPS revival is paying tribute to the fans - favourite high-flying Quake 3 deathmatch map The Longest Yard is back in business, plus a grab-bag of alternative modes for more casual play. The September Update is live now, though the game still technically remains in early access.
Update: Quake 2 character Athena's release had been announced, but has been bumped back to the next update. The Longest Yard and Arcade Mode are up now.
The Longest Yard, one of Quake 3's most popular environments is back and looking better than ever. A series of platforms and jump-pads floating in the void, with a hotly contested railgun spawn (with amazing sight-lines), and plenty of opportunities to knock enemies off with explosives. The Quake Champions version of it has a more crumbling and mysterious look to it rather than being a collection of sci-fi space-panels.
The last big change this update is Arcade Mode, a playlist of less traditional ways to frag your friends that will be cycling in new modes as Id thinks of them. Right now the list is:
Hot Rockets - Triple damage. Infinite ammo. All rocket launchers. Raining gibs.
Mystery Champion - Spawn as a different character each life, even ones you don't own.
Team Instagib - 4v4 version of the twitchy railgun nightmare mode.
Unholy Trinity - The only weapons are rockets, railguns and lightning, but you spawn with all three.
Beyond this there's a handful of minor tweaks and balance changes. You can check out the full patch notes here.
Not quite ready in time for this update but hopefully not far off (given that trailer), Athena is a reboot of the Quake 2 female player model, and nostalgic in her own way. While some other heroes (including Quake 1's Ranger) have movement-based powers, hers is the most straightforward. It's a Quake 2 grappling hook. That is to say it's a magical laser that looks like a rope which pulls you abruptly towards any surface you hit. It looks weird and clunky alongside the more modern characters, but that's the point, I guess.
Quake Champions is free-to-play and available on Steam and via Bethesda's own launcher. The Champions Pack (which unlocks all characters current and future) has increased in price to £30/€40/$40. It is still, technically, in early access.