I've discovered this obscure 'Instagib' mode and it's fantastic
You've probably never heard of it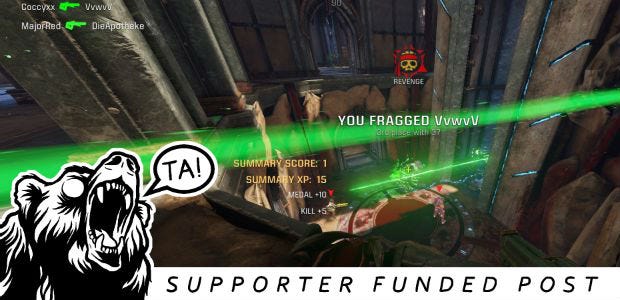 I expected I'd play a little bit of Quake Champions, enjoy myself, then quickly tire of it. That prediction was spot on for the normal modes, which are fine but leave me with a niggling feeling that I'd be enjoying myself more in Overwatch. Don't get me wrong, they're very different games and that's the point - I prefer pursuing an objective to the chaos of a deathmatch.
Unless everyone has a one-hit-kill laser rifle.
Read the rest of this article with an RPS Premium subscription
To view this article you'll need to have a Premium subscription. Sign up today for access to more supporter-only articles, an ad-free reading experience, free gifts, and game discounts. Your support helps us create more great writing about PC games.
See more information