Rainbow Six Siege launches Operation Blood Orchid
BLAMMO!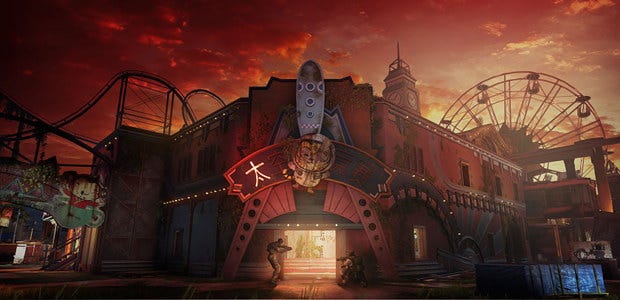 A new map, three new characters, and technical improvements aplenty have blasted open the door to Rainbow Six Siege [official site] with today's launch of Operation Blood Orchid. The new map ventures into an abandoned Hong Kong theme park, which sounds splendid fun. Blood Orchid is arriving a week late but was already months behind the original schedule, delayed while Ubisoft instead focused on improving the base game under the name Operation Health. The final big step of Health also arrives in today's update, with changes from faster loading times to better hit registration.
So! Your three new operators are Hong Kong locals Lesion and Ying plus Polish visitor Ela. Ying packs flash grenades that can be tossed usually or stuck to surfaces, while Lesion has toxic mines whose needles deal lingering damage and slow players until removed. Ela has mines of her own, though they do concussion blasts that slow people while futzing with their vision, and she can also pop one of those mines when downed.
In the usual Siege way, those characters only arrive today for players who own the season pass. Everyone else will need to wait until the 12th then unlock them individually.
Here, check out the new map:
As for the last hurrah of Operation Health, look forward to things including optimised (and, in some cases, prettied-up) player models, a reorganisation of data files that makes them take up less space and potentially load a touch faster, a reduction in the bloom effects that make it difficult to see into light spaces through holes from dark spaces and vice versa, new skyboxes replacing HDR dynamic skies, an optimisation of the map Kafe to kick off a revamp of all maps, better facial animation, and netcode improvements. Ubisoft explain:
"Over Season 3, we will be testing fixes and improvements that will aim to address Hit Registration issues and poor network conditions. We are currently testing something we're calling Latency Alignment, which will make 1v1 encounters feel more consistent. The result should be that the server will more accurately mirror the reaction time of players with unstable connections, giving a fairer reaction time to their opponents.

"We are also working on adjustments to our shot validation to further favor players with more stable connections. This will be a lot more punishing on shots that happen far away. There are other improvements for hit registration, headshot registration, and ping that we will be trickling into deployment."
Blood Orchid also removes several maps from both the Ranked and Casual maplists. Ubisoft say it's so new players are less intimidated and serious players can hone their skillz but it does mean you'll see fewer maps. How do you feel about that, gang?
Hit the patch notes for full details on everything.