Rainbow Six Siege Operation Black Ice Operators Leak
Called Buck and Frost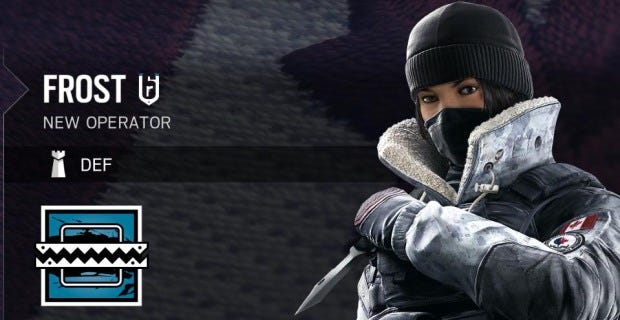 Rainbow Six Siege [official site] is a great game, so I am eager for news of how it'll be expanded in future. Eager enough to not care that these details of its next DLC, Operation Black Ice, are from a leak and therefore unconfirmed and maybe garbage. They look real, they taste real, so let's give Reddit the benefit of the doubt and say that February 2nd will bring two new Operators called Frost and Buck.
As shared on Reddit by someone with access to a current beta, the images - which you can see below - show the abilities of the pair. Frost can use "a mechanical trap to incapacitate enemies," while Buck can "toggle an under-barrel shotgun attachment on his main weapon."
Operators are Siege's equivalent of classes and so determine what tools and abilities you have during a mission. I like the way they're referred to in-game by other characters as if their class is their actual name, so that the guy with a sledgehammer is repeatedly called "Sledge" and so on. I like to imagine their first names: Barry Sledge, David Mute, Jimmy Thermite. I do not recall why the SAS operator who carries EMP grenades is called Thatcher but let's assume his first name is Margaret and not "Mike Baker".
Rainbow Six Siege is a great game, as I said above, but it's wrapped up in a dumb structure in which you must play and play and practically grind in order to unlock all the Operators available. Still, its destructive environments make the game fun enough that I'm excited for whatever they add, and a previous leak suggested that Operation Black Ice's centerpiece would be a new map set on a yacht frozen in pack ice.