Recharge your Steam Deck, laptop, smartphone and watch with this GaN USB-C charger from Amazon UK
Four ports, 65W, 15% off its usual price, UK only.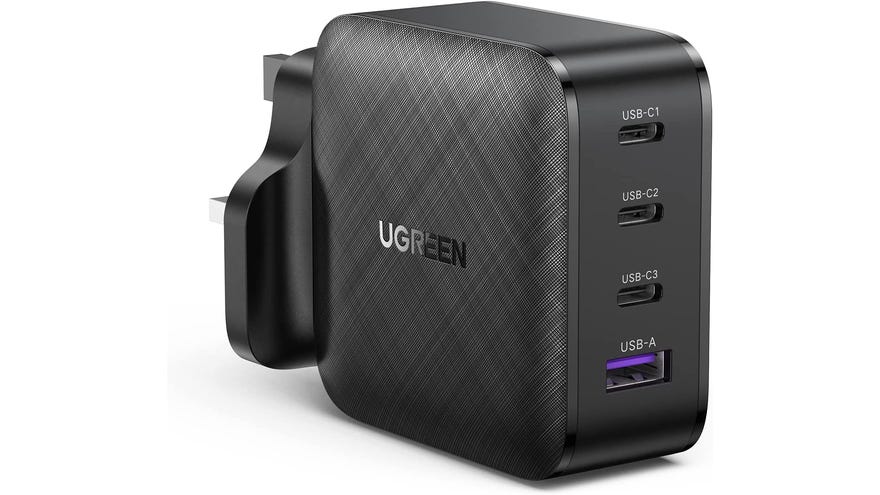 The Steam Deck is a handy device, but its 45W charger isn't the most convenient to lug around as it only charges one thing at a time and takes up a fair amount of space. That's why I tend to opt for a multi-port charger, so I set out to find one recently that would charge my Steam Deck, MacBook, Pixel smartphone and Pixel watch all from a single point.
I eventually ended up with this 65W GaN charger from UGreen, which includes three USB-C ports and one USB-A for £39.99 - but today this model has been reduced by 15%, bringing it down to £33.99 where it's well worth recommending.
GaN (Gallium Nitride) chargers use Gallium Nitride rather than silicon in their construction, allowing for more efficient operation with less heat, and therefore the chargers can be smaller. That's typified well here, with the electronics required all fitting in a unit about the size as the unwieldy UK plug it's attached to. This isn't the best choice for confined spaces - you don't want to be sticking this behind a bed or bookcase, for example - but it's excellent for travelling.
The 65W this provides mean that you can charge a MacBook or Steam Deck at full tilt, but not simultaneously - you'd want a higher-wattage example (eg 100W, 140W or 200W) for that. Given that you're unlikely to be using more than two devices at the same time though, this is probably fine fo most people. Having four plugs is nice when you're charging things overnight, as even on 65W you should be able to top up four devices to 100% without issue during the normal eight hour sleeping window.
In any case, this is a solid charger from a respectable manufacturer, at a discount, so well worth considering if you have a lot of USB and USB-C devices to charge up.