Red Grockets Where? A New TF2 Mystery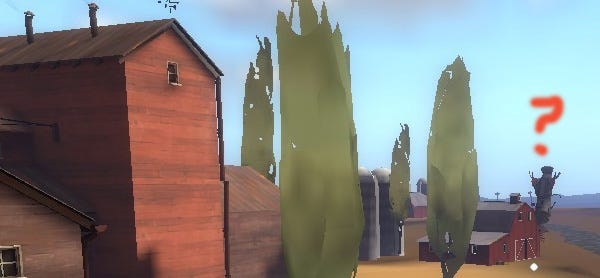 Another mystery is why it just took me five tries to spell 'mystery' correctly. A better msytery is why some new and rather large new scenery objects have started showing up in selected Team Fortress 2 maps. They look like rocket ships, or possibly just rockets - but what do they mean? I put 'mean' in italics there, so it would sound like I was whining like a pitiful child who wants everything nownownow. Did it work?

All we know, via enterprising explorers of the fabled land that is the Source SDK, is that they might be called 'Grockets.' Or they might just be called 'rockets', and the g prefix is just a internal file naming system. In other words, WE KNOW NOTHING.
Team Fortress isn't exactly unfamiliar with little ARGing ahead of a new feature unveiling, so it's more than likely this heralds something. An alien invasion? The long-awaited Meet The Pyro? A new class? A tie-in promotion with another game? Hints about a future Valve title? Simply a delivery of new hats?
There sure are a lot of things I could put question marks after. I'll stop now. You can follow the conspiracy theories on the Steam forum thread that dug this up.