Reset Wants Your Money, Offers Gameplay Tutorial
Robo-puzzling! Emotions!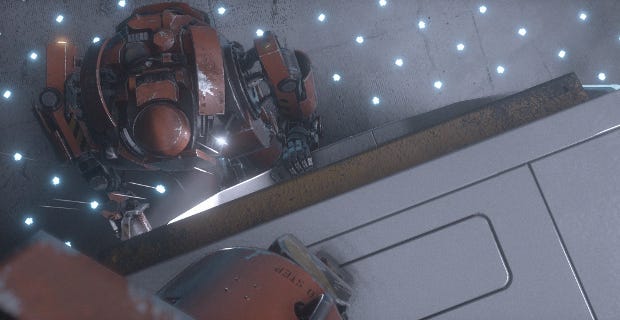 Reset is a snappy, apt title given its game's time-rewinding proclivities, but at this point most of the Internet knows it simply as That Really Pretty Game With The Ultra-Sad Robot (Who Is Actually Not A Robot) Standing In The Rain And Each Piano Key Strikes Like A Glass-Shard Encrusted Dagger To My Tear Ducts - despite a recent trailer with a bit of puzzling. But are we looking at a truly excellent, moving experience, or just another case of Dead Island trailer syndrome? Well, we won't really know until developer Theory Interactive has crowdfunded money coming out of all its wazoos, but it has offered a video tutorial to whet your appetite. See Reset in actual, non-cinematic action below.
It still looks pretty decent, I suppose, but the environment is actually quite bland and confined. But then, Reset is far from finished, and Theory's gone to Indiegogo for a reason. The puzzle, meanwhile, was (I assume purposefully) quite basic, and while a few other games have used a similar single-player co-op mechanic before, there's still tons of untapped potential in the idea.
Reset's Indiegogo campaign - which is currently about a sixth of the way to its €65,000 goal - also offers a number of new details, including:
Unique single player co-op mechanic with 33 individual puzzles to solve
Gorgeous 16 square km open world island to explore and get lost in
Smart, haunting but beautiful storyline
True next gen immersive PC experience enabled by in-house tech Praxis including:

Physically based multilayered materials
True HDR rendering
Volumetric lighting
Dynamic day and night cycles with accurate star positions
Dynamic weather effects including highly realistic cloud simulation, rain and fog with varying density
High quality multichannel audio
An open world? Mmmmmm. I very much like the sound of that and am now significantly less worried about the prospect of claustrophobic mousetrap environments. I'm more than happy to look at Reset's sun-dappled, green-devoured world from a distance, but I'd much rather be able to reach out and touch it as well.
If all goes according to plan, Reset will be out sometime next year. I certainly hope it ends up playing as nicely as it looks. Do you plan on backing it?