Return to Ding Dong Dell in Ni No Kuni II's launch trailer
Ni No Twoni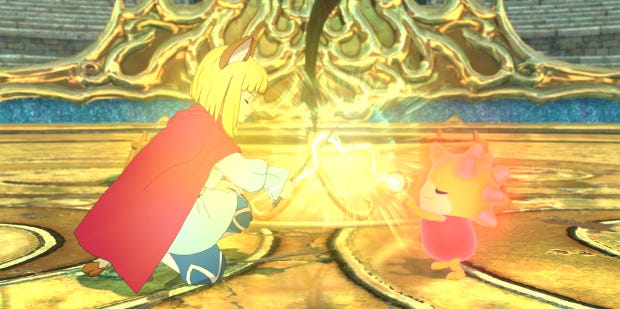 After some delays, painfully gorgeous JRPG Ni No Kuni II: Revenant Kingdom is hurtling towards us on Friday. A JRPG that we don't need to wait months, or even years, to play after it launches on console. What bizarre times we live in. But also wonderful, if Level-5 can match the first Ni No Kuni. You'll have to wait a little bit longer for our review, but in the meantime cram this launch trailer into your eyeballs.
There's a lot that's familiar, from a boy wizard protagonist to people crossing between worlds, but there are some notable differences too. It's not a collaboration between Level-5 and Studio Ghibli this time, though a former Ghibli character designer, Yoshiyuki Momose, and composer Joe Hisaishi, a frequent Ghibli collaborator, have reprised their roles.
The most obvious change since we last pottered around in Ding Dong Dell is the transformation of the combat system. In Ni No Kuni Sr. we could nurture wee beasties and summon them in battle to fight for us in a sort of real-time Pokemon brawl. This time the Pokemon are out and the Pikmin are in.
Higgledies are cute elemental spirits that can be used in battle and exploration, and you can see them scurrying around the battlefield. Interact with them when they create a circle and you'll be able to take advantage of their special powers. They even look a little bit like the helpful seedlings from the Nintendo series. Otherwise you'll still be able to use melee and magical abilities with your chosen character.
You'll be able to command your horde of adorable elemental creatures on March 23, and keep an eye out for our review over the next few days. Ni No Kuni II will be on Steam and the Humble Store for £49.99/$59.99/€59.99.