Roccat Suora review: An excellent budget mechanical keyboard
A sight for sore eyes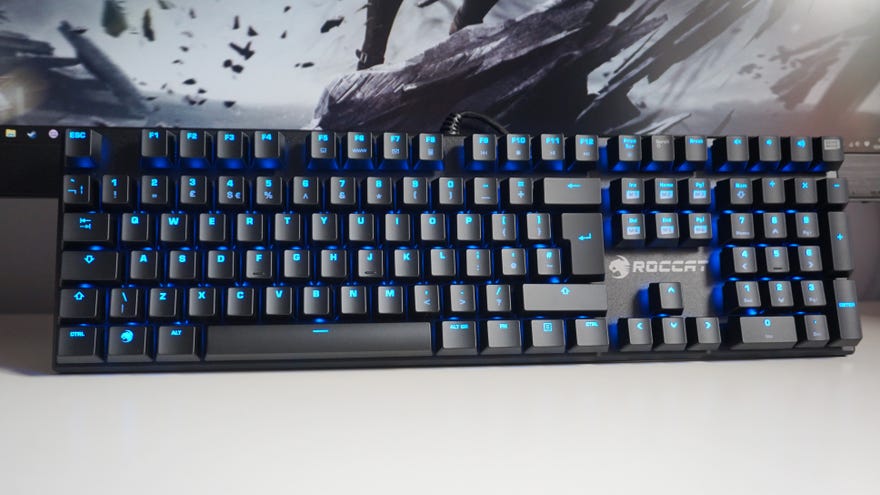 Why are the best gaming keyboards always so expensive? If you want a decent mechanical keyboard, you're often looking at spending at least £100 / $100, if not significantly more if you want all those fancy RGB lighting effects to play with. It's with a great sigh of relief, then, that I've got Roccat's Suora on my desk today, which can be had for as little as £50 in the UK and around $80 in the US - and it's really rather good.
You won't find any fancy RGB lights on this particular model (you'll have to plumb for the more expensive Suora FX if you want to get your rainbow fix here), but its solid blue LED backlight is still more than enough illumination for my tastes, and you can always turn it off or set it to 'breathe' in and out using Roccat's Swarm software if you prefer something a bit more athletic in the old lighting department.
The great thing about the Suora, though, is that Roccat haven't compromised on build quality in order to keep costs down. This frameless keyboard still comes with an aluminium alloy frame that feels sleek and sturdy to the touch, and its mechanical keys are rated for 50 million keystrokes over the course of its life-time.
Of course, having a frameless design means you do miss out on a couple of extras you might find on more expensive mechanical keyboards. The Suora doesn't come with a wrist rest or USB passthrough for your mouse, for example, and you don't get any dedicated macro or media keys apart from three volume keys in the top right corner above the number pad. Instead, you'll have to make do with the Fn buttons for the rest of your media key needs, and use the six M-labelled keys on the right for any programmable macros you might want to use, the latter of which can be activated by pressing the Game Mode key in the very top right corner. That might sound odd for a keyboard with 'MOBA-approved' and 'MMO-approved' emblazoned on its box, but as long as you're okay with that, the Suora makes a fine desk companion indeed.
It's also decidedly free of any obnoxious 'gamer' stylings. There's a single Roccat logo between the main board and the number pad, but that's it. It's still not quite as clean and innocuous as Fnatic's Streak keyboard perhaps, but as much as I prefer the Streak's rounded corners and mildly chunkier frame that also manages to squeeze in a nice little volume roller (and I do like a good volume roller), the Suora has the added benefit of costing more than half as much as its Fnatic rival. Given the choice, I'd swap the Streak for the Suora in a heartbeat.
The Suora's very comfortable to type on and play games with, too. While its mechanical keys don't bear that hallowed Cherry MX hallmark, they're probably closest to Cherry's brown switches in feel, offering the smallest of bumps as you press them down. It's not that noticeable when typing at speed, though - I really had to stop and press keys very slowly to even register it was there - so you should be able to pick it up straight away without much fuss.
It certainly didn't affect how I played games, at any rate. Tussling with a Great Jagras in Monster Hunter: World felt wonderfully responsive on the Suora, and it was perfectly suited to playing fast-paced shooters like Doom as well. In short, this isn't a keyboard that's going to miss that all-important keystoke in the heat of the moment, regardless of whether you're being pulverized by screaming 13-year-olds online or chucked about the place by 13ft virtual dinosaurs.
Being a mechanical keyboard, it is, of course, rather noisy. They've got a higher pitch than the low clacks of the Fnatic Streak, so it's possible it might be more grating on the ears than other mechanical keyboards. Personally, I didn't have a problem with it during the course of my testing, but it's probably still best to use this keyboard in isolation rather than plonk it on a communal living room PC, for instance, to annoy all and sundry.
I say this not just for the sake of your household's ears, but also your own sanity, as you'll want to keep any children you might have as far away from the typing feedback sounds as possible. Enabled through Roccat's Swarm software, these sounds aren't just incredibly naff, ranging from such classic effects as a typewriter, a 'beam sound' and a generic 'sci-fi' sound (both of which are practically identical), but they're also profoundly irritating - if only because they don't actually work half the time and then bombard you with a barrage of noise all at once when you've finished typing. If there's anything more annoying than listening to someone else clack away on a mechanical keyboard, it's having those clacks accompanied by duff 'pew pew' laser effects.
In fact, just don't even bother downloading Swarm - it will save everyone a lot of hassle in the long run and won't make you want to smash the Suora into a thousand pieces just to make the horrible noises go away. It would be a shame for the Suora to suffer such a fate, as this is by far and away one of the best budget mechanical keyboards I've seen in the last year. It's pretty simple as keyboards go, but for me that's part of its appeal.
What's more, I reckon this thing's cheap enough for it to be a great jumping in point for first-time mechanical keyboard buyers, too. While £50 / $80 is still a sizable chunk of change, it's definitely an easier ask than laying down more than double that on something like the HyperX Alloy Elite or Fnatic Streak if you're not particularly sure whether you'll get on with it or not. It's also cheaper than other hybrid 'membranical' keyboards as well, such as the Razer Cynosa Chroma and Roccat's own Horde Aimo. Whether you're looking to upgrade from your old membrane keyboard or just feel like trimming down the size of your current mechanical one, the Roccat Suora is a great pick that won't break the bank.