Rocket League celebrates its 3rd anniversary next week
Proving the importance of a good name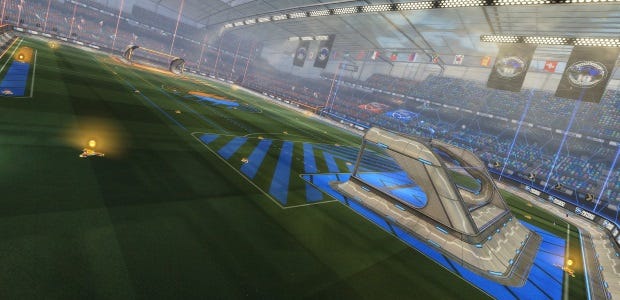 Three years of success is a big number, but ten feels far more significant. Good for sporty multiplayer hit Rocket League, then, that it's secretly been around for yonks, known for most of that time as Supersonic Acrobatic Rocket-Powered Battle Cars. To celebrate both games coming of age, developers Psyonix are hosting a big birthday bash event starting next week. Within and below; the details of the new event arena, how you can win some cosmetic items for your cars and the nostalgic trailer that started this esports phenomenon.
The most exciting bit part of this coming anniversary event is a new arena, pictured above. Inspired by the original SARPBC designs, and should provide a fun new twist on the game. The Throwback arena (as it is known) features goals placed much further forward and a little lower to the ground, making for a very different experience and a lot of behind-the-goal scrambling. This map also features a slightly lighter ball, so expect more aerial antics and lower scores overall.
Being an anniversary event, Psyonix are being generous with their cosmetic gubbins. No event passes, keys, crates, decryptors or any of that jazz to worry about. Just play matches, collect balloons (the birthday bash currency) and trade them in for some festive party gear for your tiny rocket car. Those feeling a little more adventurous can trade balloons for Golden Eggs, which contain even more random event goodies, like an adorable birthday cake hat for your car. Un chapeau de gâteau, even.
You can take a peek at some of the available prizes in Psyonix's official announcement page here. The anniversary event kicks off this July 9th, 10am PDT (6pm BST), and ends on July 23rd, 5pm PDT (1am on the 24th, BST). Unlike other events, any unredeemed balloons will be unceremoniously popped the moment the party ends, so make sure you cash them in.
Rocket League is 50% off in the Steam summer sale (which ends tomorrow), discounted to £7.50/$10.