Rose & Camellia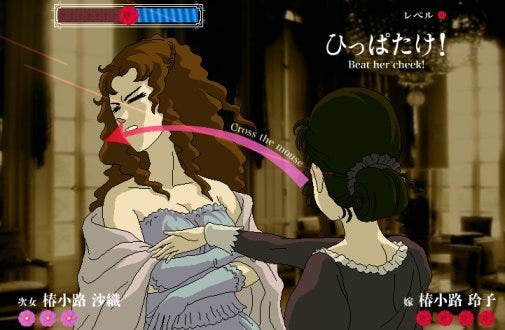 The Independent Gaming Source regularly blogs come interesting 'indie' material, but this Japanese Flash game based around aristocratic feminine face slapping is one of the finest referrals so far.
Translation honours go to Selectbutton who report that:
The plot, according to the text below the game, is that the player girl is a commoner who marries into a noble family. One day after the marriage, her new husband breathes his last—but the pampered harpies running the House refuse to give this low-blood the honor that is her due. There is only one way to resolve the matter!
And that's flicking your mouse across the screen to pulp the chops an array of snooty harridans. I wish I could offer some kind of critical dissection of this, the slapping game. And yet all I can think is that this is the only game ever to have an oscillating "slapping slider" dictate your attack rate.