Rossigames Revealed: Sir, You Are Being Hunted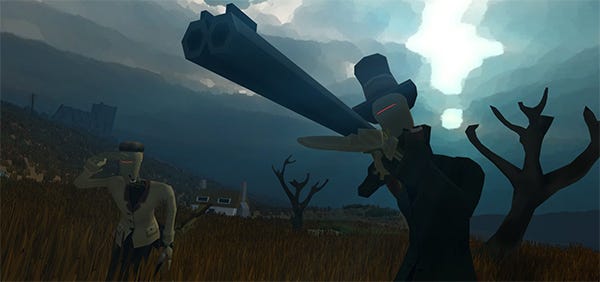 Big Robot, the indie developer headed up by one Jim Rossignol of this here website, has just taken the lid off its fourth project. Fourth! How did that happen so quickly? You've already played Avseq, you'll get to play Channel 4-funded education game Fallen City soon and you may have seen a few screenshots and test videos for the open-world game codenamed Project Lodestone. And now, there is Sir, You Are Being Hunted. It's an open-world survival game starring gentrified English robots who hunt humans for sport, and was referred to on BR's drawing board as 'a British indie STALKER.' We're promised "robots that ape tea-drinking, poachers that lurk in reed-beds, and red-eyed hounds that patrol the moor".
I would say that Sir, You Are Being Hunted looks absolutely lovely and has a fantastic concept, but if I did you'd have no idea whether I'm being objective or not.

Jim will be along later in the week to explain exactly what he's up to with this development lark, but in the meantime you can get a better overview of the game and more screenshots in its first reveal post here. The sad-ish news is that Hunted will happen before Lodestone, which is on hold for the time being. However, Hunted lays some of the technical groundwork for Lodestone, so it should all be to the good.
Seeking more information on the project, I conducted an exclusive and extensive interview with project lead Jim Rossignol.
RPS: Where did you get the idea for robots from?
Rossignol: I think we've all looked at other people and thought "this would just be more interesting if they were emotionless metal automatons", so that's sort of my inspiration.
RPS: Thanks for your time. Now, stop moonlighting and go post some more game trailers.