RPS@PAX West 2022: Sunday daily round-up
Day three from the show floor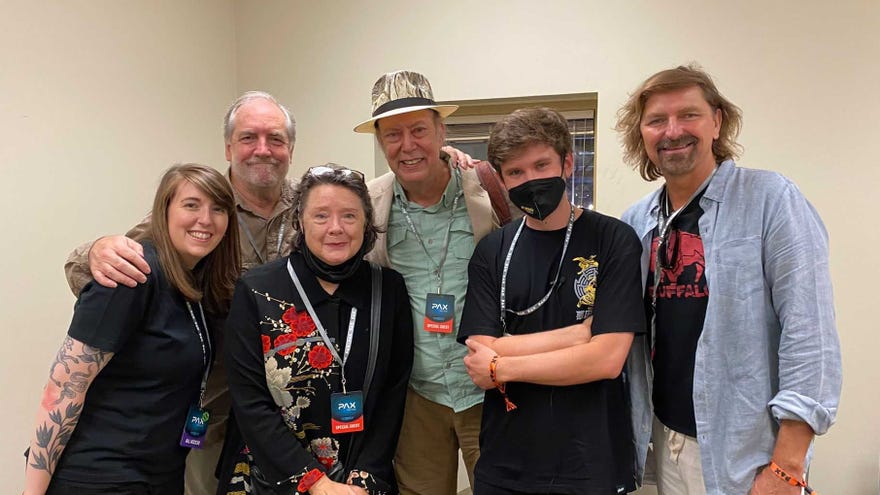 The weekend is over and our third day of PAX West has come to a close. I feel like I say this every day, but it was another busy day today as we bounced around the PAX show floor. We played some of our favourite games from the whole event and also recorded two incredible interviews you won't wanna miss. Watch our daily round-up of everything we did for more info!
During the morning, we checked out Demonschool by Ysbryd games, an Into the Breach meets Persona turn-based RPG about a group of collage students who fight demons, ghouls and zombie yakuza on a mysterious island careening toward a demonic apocalypse.
Our first interview of the day was with Brainwash Gang's Edu Verz on the chaotic deckbuilding FPS Friends Vs Friends. Liam and I were completely blown away by the deckbuilding and card abilities making it jump straight to the top of our PAX indie gems list.
We then had the absolute pleasure of chatting with the cast of Team Fortress 2 who spoke to us about their experiences with voice acting. Ellen McLain, Gary Schwartz, John Patrick Lowrie, and Robin Atkin Downes chatted about their favourite voice lines, creating the voices of their characters, and more so make sure to check out the entire interview for some tasty TF2 goodness.
Liam then went to check out Wanted: Dead, a slasher-shooter created by some of the makers of Ninja Gaiden and Dead or Alive. The demo followed a Suicide Squad-esque group of Hong Kong police officers in a cyberpunk world. It wasn't a stand-out demo, but Liam enjoyed its call-back to action-adventures of bygones past.
That's our last daily-round up! Tomorrow will be a little different and instead of a daily summary, we'll recording a list of PAX West's bestest bests, choosing our favourite demos, our favourite highlights from the panels we attended, and our how we felt about the show overall.
There'll be a couple more videos tomorrow but if you've missed any of our coverage so far you can find everything over on the RPS@PAX tag.