Scream Fortress: TF2 Gets NPC Boss Monster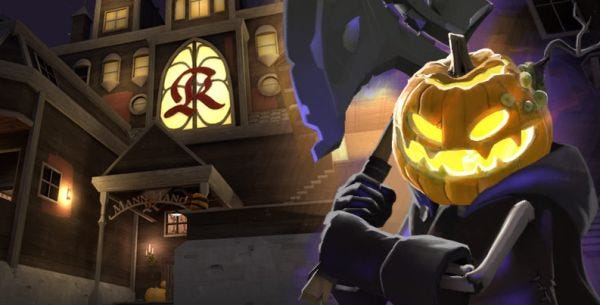 Grab your Jarate bottles, it's about to get all Halloweeny. In the second, and thus now annual, All Hallows Eve update for Team Fortress 2, the game has added its first ever NPC boss monster. He's the Horseless Headless Horsemann (indeed, a long lost member of the Mann family), and only appears in a new spooky map, Mann Manor. He's randomly generated, and DOESN'T HAVE A HEAD... OR A HORSE. Cripes!
Mann Manor is a spooky "attack/defend map littered with exploding pumpkins", created by Art Pass Contest winners, Tim Johnson and Alex Kreeger. It's clearly going to be an interesting inclusion, what with that old dead Mr Mann causing trouble in a way TF2 hasn't seen before.
There's more in the update. There's new "ghostchievements" (they're not even trying with that one), along with last year's "scarechievements" (at least that almost sounds similar). There's a random drop in the Mann Manor map, the Haunted Halloween Gift. And there are of course more items in the Mann Co. Store, as well as a new "gift wrapping feature". There's also a second map from the other winners of the same compo, Mountain Lab.
This is all rather splendidly summed up on a very funny (I mean scary) page, here. The spooksome goings on last from tonight until the 8th November, where seasonal items will creepily vanish from the store (but continue to be wearable by those who've bought them).