Screenshot Saturday Mondays: tentacle typing and sculpting spaceships
Admiring more interesting upcoming indies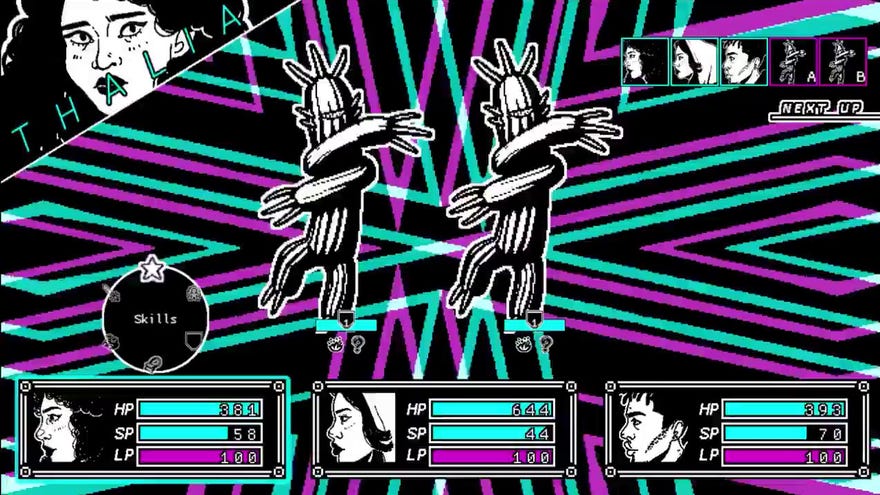 Every weekend, indie devs show off current work on Twitter's #screenshotsaturday tag. And every Monday, I bring you a selection of these snaps and clips. This week, my eye has been caught by a surreal RPG, a squirrel with a gun, a typical tentacle horror, handcrafted spaceships, and plenty more interesting indies.
Just some regular keyboard-mashing in Tentacle Typer, a "Lovecraftian text editor RPG experience" (coming to Steam):
I wondered what it would be like if every letter you typed blasted the nearest thing after you so here I am checking.

It's a lot more fun than I expected.#screenshotsaturday | #unity3d | #gamedevelopment pic.twitter.com/L0WD4D3Z4L

— Josh Leap (@LeapJosh) August 5, 2022
A fun crafting idea in VR co-op zombie survival game Requisition (coming to Steam):
My zombie apocalypse sport activity be like:

Wishlist on Steam https://t.co/7UAp7wvfHP #requisitionvr #vrgaming #vr #gamedev #screenshotsaturday pic.twitter.com/IsRjQo3hHw

— Arcadia VR (@vr_arcadia) August 6, 2022
It's been two years since we last posted about surreal RPG She Dreams Elsewhere (coming to Steam) and I'm delighted to see its cool battle art again:
an easy victory#screenshotsaturday pic.twitter.com/DrYb5hIMYc

— she dreams elsewhere 😴 coming soon (@studiozevere) August 6, 2022
I like the colours of Extra Coin (coming to Steam), an adventure game set inside a social network metaverse cyberspace doodad:
Perfect meals 🍔 #screenshotsaturday pic.twitter.com/OISj1SIhYh

— CINIC Games 🔜#gamescom2022 (@CINICGames) August 6, 2022
I thought I was over wacky animal games years ago but Squirrel With A Gun (coming to Steam) does make me laugh:
Squirrel commits an adorable 😊😘 robbery 🔫🐿#indiedev #gamedev #UE5 #UnrealEngine5 #indiegame #blender3d #blender #b3d #indiegamedev #screenshotsaturday #wishlistwednesday pic.twitter.com/FGCaV1gKUE

— Dan DeEntremont (Wishlist Squirrel with a Gun!) (@QuiteDan) August 6, 2022
A bad name but a good-looking approach to inventory stacks from Gacha Garden (coming to Steam), a game about collecting and arranging objects in a pretty garden:
Implemented taking stacks out of storage, plus a peek at some items from a new set!🏜️ #GachaGarden #screenshotsaturday pic.twitter.com/ttdB05dF37

— Anneka Tran (@annekatran) August 6, 2022
An important lesson from "cozy care game" Kamaeru:
Fact: froggos love wheelbarrows filled with rainwater 🐸#screenshotsaturday #gamedev #indiegame #MadeWithGodot #ClimateAction #Wetlands #Frogs pic.twitter.com/FGcA3Y1UXW

— Kamaeru (@Kamaeru_game) August 6, 2022
My eyes are too old to follow the action of shmup Dot Bullet (early version available on Itch) but they still appreciate the colours and shapes:
some of stage 5's current progress. #gamedev #gdevelop #shmup #bullethell #STG同好会 #DotBullet #screenshotsaturday pic.twitter.com/33Sh7hRBdY

— fawdot (@fawdot1) August 6, 2022
Spore-style shenanigans from evolutionary survival game Adapt (coming to Steam, with a demo up now):
It's a life by the water for me 🐬🌞#IndieGame #ScreenshotSaturday #MadeWithUnity #Unity3D #GameDev pic.twitter.com/4MepYZtWXw

— Adapt | Free Demo Available Now On Steam (@AdaptTheGame) August 6, 2022
I don't think this even has a name but I like the look, and the thread shows more of it in action:
#indiedev #madewithunity

Been working on my little gem character here in-between game jams and travel. Here are some updates for #screenshotsaturday including dashing, teleportation, UI additions, and a very early AI controller (with placeholder visuals!). More below.

Dashing: pic.twitter.com/bhu1rGMiLN

— Billy Becker (@Spainmail) August 6, 2022
I appreciate handcrafted art like this from Just Act Natural (out now free-to-play on Steam), a multiplayer party game about trying to hide by blending in with NPCs:
A behind the scenes look into the sculpting of some assets for our Spaceship stage#screenshotsaturday #gamedev #clayart pic.twitter.com/S3Cu8sU54J

— Just Act Natural | Free on Steam! (@JustActNatGame) August 6, 2022
What else caught your eye this weekend, reader dear?