Screenshot Saturday Mondays: trains, ghosts, and cyberpunks
Looking at more interesting upcoming indies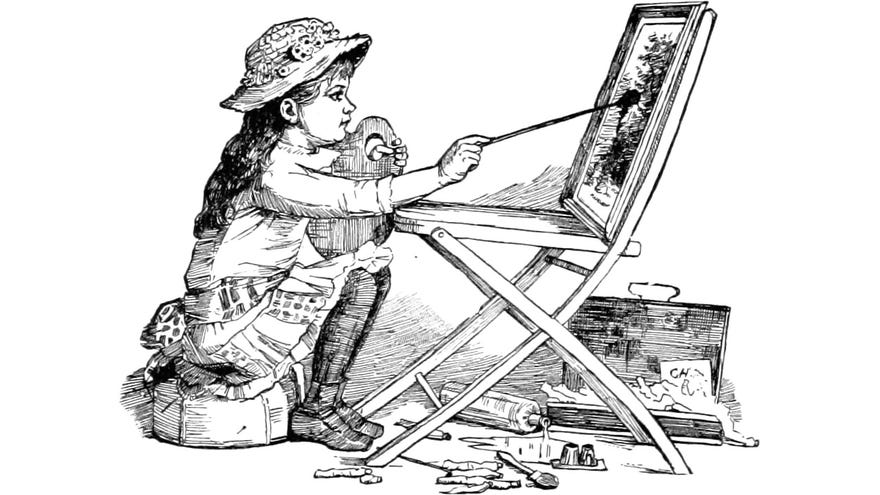 Every weekend, indie devs show off current work on Twitter's #screenshotsaturday tag. And every Monday, I bring you a selection of these snaps and clips. This week, we have cute trainline-building, ghost violence, surreal things both intentional and unintentional, and a cyberpunk New York City.
I like the Townscaper-style block-plopping of diorama-building game Islands & Trains (coming to Steam):
Building a tiny little island with a tiny little (new) trainstation & some happy little (new birch) trees and bushes that Bob Ross would hopefully be proud of☺️#screenshotsaturday #lowpoly #gamedev #indiedev #WIP #game #madewithunityhttps://t.co/KTPC7AwK3T pic.twitter.com/6O00WZciN6

— Fabi Smith (@Just_Game_Dev) June 26, 2022
Smooth animation in the opening cutscene to adventure game-y puzzle-platformer Long Gone (coming to Steam):
Block-in is done. Just need to detail it and clean it up. Feeling pretty good about it though, I was nervous about getting this one done because of its complexity.#screenshotsaturday #IndieGameDev #Running #LongGoneGame #GameDev #solodev #animation #indieDev #PixelArt #Unity pic.twitter.com/9e4rrD4kz6

— Vin・Hillfort Games (@HillfortGames) June 25, 2022
Stylish stuff from twin-stick shooter Haunti (currently on Kickstarter):
Hi #screenshotsaturday these are gameplay clips from my game about ghosts, Hauntii. https://t.co/OYIN8P3jNm

This is a twin-stick shooter adventure where you can 'haunt' and control enemies, creatures, statues, and more! #indiedev #indiegames #gamedev #Kickstarter pic.twitter.com/bvw18Lphow

— Leo (@realZigzagLeo) June 25, 2022
A colourful cyberpunk New York City and some Vangelis vibes in a mysterious new run 'n' gun game from the folks who made Steel Assault:
The first early teaser of our next game. Watch it with sound on if you get the chance!#screenshotsaturday #pixelart #ドット絵 pic.twitter.com/DiL23iOrP2

— STEEL ASSAULT (@SteelAssault) June 18, 2022
Neural Nest has a cool concept:
NEURAL NEST is a surreal movement shooter set in concrete catacombs, inspired by the works of Tsutomu Nihei. You play as a machine learning-generated creature trying to prove themselves.

Demo coming soon...#gamedev #madewithunity #indiedev #screenshotsaturday pic.twitter.com/nr2dEhPbQ8

— q☆bit digital (@qbitdigital) June 26, 2022
Some great wallpaper and topsy-turvy exploration in a puzzle game tentatively titled The Office (yeah I don't see that name surviving):
Today during the #screenshotsaturday we are upside down.🙃#indiegames #indiedev #gamedev pic.twitter.com/BeEWz9LIqc

— Rem (@RemzouzeIV) June 25, 2022
I like the top-down rain effect in open-world RPG Deadwind (which has a "very old" demo on Itch):
The citizens of Myrefell keep vanishing in the night...#gamedev #indiedev #gamemaker #roguelike #indiegames #rpg #screenshotsaturday pic.twitter.com/V8C6fwws0v

— Jason Accardo (@thinginger) June 25, 2022
A wee Team Fortress 2 fan joke in Red: Shadow Maggots (coming to Itch), a... TF2 fangame in the style of Raid: Shadow Legends?
Here's a look at the new Potted Plant enemy in RED: Shadow Maggots!

There weren't a lot of unique enemies in the upcoming demo, so we plan to add more Eltorro64-inspired gag characters to fill the roster!#gamedev #indiedev #screenshotsaturday #tf2 pic.twitter.com/FNvpGznWM5

— Brogrammist (@Brogrammist) June 25, 2022
A clever girl in survival horror game Primal Omen (coming to Steam):
Dinner Time #screenshotsaturday pic.twitter.com/Om4Y6XY42F

— Sean Herron (@SeanGameDesign) June 25, 2022
Some sort of mascore Sonic violence in Panic Porcupine (coming to Steam):
Who says wrecking balls are to be avoided? Panic Porcupine is coming in September! #indiedev #pixelart #screenshotsaturday #steamgames pic.twitter.com/zz6oyEtqHl

— Spicy Gyro Games (@SpicyGyroGames) June 25, 2022
Roguelikelike platformer Ants Took My Eyeball (coming to Steam) makes murk look good:
Looks like this shrine has seen plenty of action before I ever arrived.#screenshotsaturday #gamedev #indiedev #pixelart pic.twitter.com/zJgaxfvTfL

— Ants Took My Eyeball (@kasityo_crew) June 25, 2022
And honestly, I am here for this happy little accident in cute critter game Sunfluffs:
I was just trying to optimize some graphics code, how did I end up with this?! 😱#screenshotsaturday #bug pic.twitter.com/4XCuag8w2I

— Azure (@AzureLazuline) June 25, 2022