Seriously! - Serious Sam 4 Coming In Late 2014
Return of (totally not) the king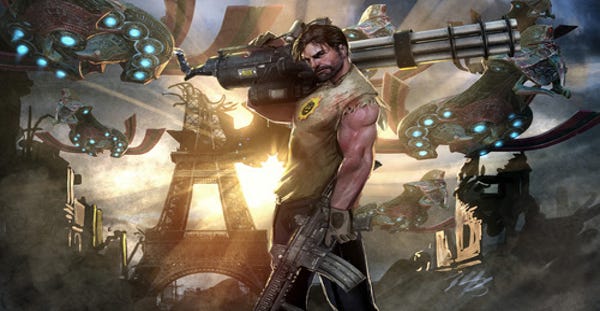 Where in the world is Serious Samdiego? I think a fair number of people would like to know, especially in light of the fact that series creator Croteam announced it was funding Serious Sam 4 with a Humble Bundle. But then it just disappeared. So what gives? Did the beloved throwback shooter have a stumble (bundle)? Evidently not, as Croteam is now claiming that Serious Sam 4 will be out by the end of 2014.
Speaking with fan site Seriously!, Croteam talked about their current slate of work. First up, Serious Sam 4, which is apparently already decently far along.
"Although pretty much nothing is known about Serious Sam 4, [CEO Roman Ribaric] has assured that it is planned for release late this year (Q4). And no matter what you have heard.. there won't be any cowboys or big fluffy creepers in it."
Equally enticing, meanwhile, is the news that Croteam is hurtling forward on a second project. Or rather, they're contemplatively wandering forward - head all at once in the clouds and grounded by scholarly concentration - if the unnamed game's direction is indicative. Apparently it's set to be "a mixture between Portal and The Witness." So open-ish first-person puzzling, then. Iiiiiiiiiinteresting, and not at all what one would expect from a studio whose logo is literally a bomb with an angry face drawn on it.
Fun times ahead if all of this comes to fruition. I do hope Serious Sam 4 is a significant improvement on SS3, as the latter felt a little stale. I'm even more excited for the other game though, as I can't wait to see what a studio like Croteam can bring to that genre. Also, I really want them to call it No This Time He's Actually Very Serious (But In A Different Sort Of Way) Sam.