Shadowhand stands to deliver on December 7th
Deadly dealings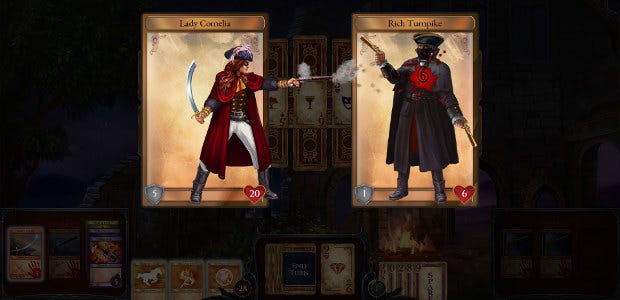 A long line of RPS writers (generations of em!) have been sharing their thoughts on Shadowhand, including an in-depth preview over the past couple years. It's been fascinating watching Grey Alien's game of card-based swashbucklery grow and evolve, and now the distinct and interestingly themed CCG has a release date.
December 7th seems to have a bit of a 'powerful, dangerous women and the cards they deal' theme, after that Reigns announcement. Hardly one to grumble about, I must admit. Plus, if you value neither your money and your life, you might want to read a little further; We've got a snazzy near-launch trailer showing off some of Shadowhand's beautiful art, and no shortage of card-based conflict.
Highwaymen, pirates and other such cutthroat sorts abound here. Just from looking at the trailer above, Shadowhand looks significantly more complex than your average modern CCG, packed with stats and modifiers in classic RPG fashion, and a world away from the simplistic quickfire design of Hearthstone.
More than anything, I'm reminded of Card Hunter, which takes a similar approach to card-based combat and looting, having your deck choices reflected in the build of your characters and vice versa. Shadowhand - being from the creator of RPS favourite Regency Solitaire - also changes the very nature of the playfield from CCG standard, giving it a distinctly solitaire-y feel even when you're trading flintlock rounds with some scurrilous scofflaw. Always nice to see a fresh mechanical twist in a genre so frequently threatening to turn stale.
It's an exciting looking blend, and the pseudo-historical story revolving around a plucky young noblewoman who moonlights as an infamous masked criminal is a refreshing change from the usual plethora of high fantasy CCGs. Sometimes, a flintlock pistol and a snazzy aesthetic are all you need. Since Shadowhand started development, we've seen an explosion of interest in the CCG genre, so perhaps the time is right for Grey Alien Games, too.
Shadowhand will be available for both Windows & Mac PCs on December 7th on Steam, GOG or (ideally) direct from the publisher, and will cost $15, minus a 10% launch discount.