Watch this Slay The Spire infinite combo deck winning on the first turn
The power of a lean deck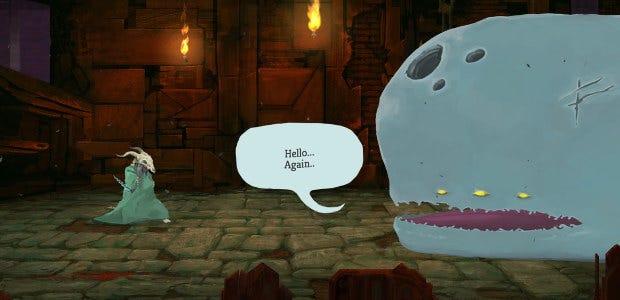 As you might have noticed, we're playing a lot of Slay The Spire round these parts. With a few wins under my belt, I've learned about the power of building lean decks in the roguelikelike dungeon-crawling card game, but I'm still blown away watching a video of an infinite combo winning battles on the very first turn - with only two cards in the entire deck. It has caused several blasphemous exclamations in the RPS treehouse.
Here's Twitch streamer "RiskyCB" with the edited highlights of an infinite combo run on his stream last month:
For those who can't watch now or need a little explanation, here we go. From the start RiskyCB focuses on cutting extraneous cards from the deck--removing them through his starting blessing, in shops, and at campfires once he finds the Peace Pipe relic--to lay the foundations for reliably drawing big combos. He starts out using Bash to make enemies Vulnerable then hitting them with a Dropkick, which refunds its energy cost and draws a card if the target is Vulnerable. Using Dual Wield creates more Dropkicks so he can keep drawing them. But as the run continues, he strips the deck down and down until it's just two cards: Flash of Steel, a zero-cost card which deals damage and draws a new card; and Duel Wield to make enough Flashes to draw. Wild times.
I'd known that was possible but it requires removing so many cards, which requires sacrificing and risking so much, that I'm still hugely impressed. And I realise other infinite combos exist in Slay The Spire but YouTube recommended that video to me, so I watched it and exclaimed "jesus" then I showed it round the RPS treehouse and Alec said "holy god" and Matt said "haha, nice", so now I'm showing you too.
Alec adds, "I just tried to recreate this but got murdered by the first Elite I encountered."
Oh, and a new early access update hit Slay The Spire today. As the patch notes explain, it's a 'quality of life' update rather than anything major. Enjoy new rest area backgrounds, interface improvements so you can better see your deck and enemy intents at certain points, new animations for a few enemies, and balance changes (the new Eggs are nice).
For more on the future of Slay The Spire, do read Brendan's recent interview with the main devs, where they talk about adding new characters, making more interesting and transformative events, and more.