Smite World Championship 2016: Everything You Need To Know
Good gods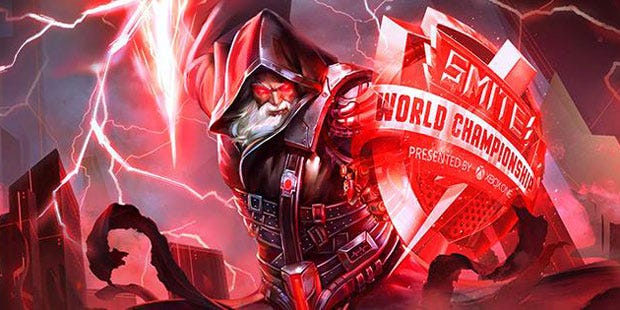 New year, new esports event coverage! And by that, I mean let's have a look at the Smite World Championship 2016 [official site].
Here's what you need to know about Hi-Rez's annual Smite-a-thon from the teams to the $1m prize pool:
Hello, I'm here, definitely paying attention after the Christmas holiday. Could you… uh… remind me which one Smite is again?
Smite's the MOBA that takes its characters from various pantheons. They're mostly gods but there are a few demi-gods and so on thrown in for good measure. The big point of difference from League and Dota is that you're in the third person rather than using a top-down perspective.
So what's the Smite World Championship?
That's the annual "who's the best?" competition which the developer, Hi-Rez, hosts in Atlanta, Georgia. It's like how Worlds is for League and The International is for Dota. The first one was last year so this is the one which proves it's an annual event rather than a thing which happened the once and NO-ONE ELSE CAN BE THE BEST EVER AGAIN.
SWC 2016 must be soon if you're doing a primer for it, then?
Yeah. January 7-10 at the Cobb Energy Centre. It's a nice-sized venue – reminded me a bit of Benaroya Hall which is where The International was held before it moved to KeyArena.
Who's competing?
Here's the list of teams:
Paradigm (EU 1st seed)
Epsilon (EU 2nd seed)
Fnatic (EU wildcard)
Cloud9 (NA 1st seed)
Enemy (NA 2nd seed)
paiN Gaming (Brazil)
Avant Garde (Oceania)
OMG B (China 1st seed)
Qiao Gu Reapers (China 2nd seed)
Isurus Gaming (LatAm)
That's a bit unhelpful given I don't follow pro Smite very closely – are there any pointers on who to watch or anything?
Okay, so. I'm comfiest with EU Smite so let's start there:
Fnatic got through as the wildcard team but they're known for turning in great performances at LAN. That doesn't mean they don't face upsets and they had a notably tough time at the Super Regionals (the qualifying tournament for Worlds) but they're one of the most stable rosters on the scene, they learn fast and they're determined to use Super Regionals as a "kick up the arse". Paradigm look strong and have that excitable energy you get with some teams. You can hear them playing from rooms away because of the hollering – it was endearing to watch them excel at Super Regionals. Thing is, they've also admitted that being super comfy with the current metagame gave them an important confidence boost at the LAN so I'm wondering whether, if other teams are equally comfy, Paradigm will still be able to win or whether they might be prone to tilting. Epsilon looked like the stronger team going into Super Regionals but their silver-medal performance will have removed some of the fear-factor there. After all, they're obviously not infallible. Worlds will show whether they are galvanised by those recent matches or whether they lose some momentum.
For North American Smite you've got Cloud9 and Enemy. I'm not sure about Enemy still. I've seen them play a little but some of those performances were bafflingly unimpressive. The one which really springs to mind is the Super Regionals final between them and Cloud9. It was one of those matches where they just seemed totally outmatched. As C9's captain said at the time: "We destroyed them in every pick/ban phase. They're really far behind us in terms of… just everything. That sounds so cocky and so rude but there was no resistance at all in those games. We just annihilated them. It sounds so rude and so cocky but there was zero 'oh my gosh we might lose this, they have map pressure' – there was none, we just rolled them." Cloud9 are "sort of" the reigning world champions, by the way. I say sort of because actually Cognitive Prime won SWC 2015 but then that roster got picked up by Cloud9 and one member left to join a different team. Cloud9 aren't the reigning world champion organisation but they have four of the reigning world champion players.
I was about to say that paiN Gaming made it to the previous Worlds event but they didn't. paiN's League of Legends team made it to the League of Legends World Championships and apparently that now feels like it happened a year ago and esports events/teams are bleeding into one another in my head. The player name Stalk3r sounds really familiar but I'm not sure why. In other unhelpful news, I haven't seen Isurus or Avant Garde play either. I'm particularly interested in the latter, though, as they're coached by Job 'CaptCoach' Hilbers. He used to coach Titan, the team who came second at last year's SWC, so I'll be curious to see how his coaching has helped the Oceania side prepare for the world stage.
Finally there are the two Chinese teams. The Qiao Gu Reapers are an ever-so-slightly amended version of Doage Is Dog who attended SWC last year. OMG B is a sister team of the OMG A lineup who attended in 2015. Looking back at my 2015 notes, Doage is Dog got knocked out on the first day last time while OMG A made some silly mistakes (and were punished for them) but I figured they could grow into an impressive side. The Chinese teams were also disadvantaged by the fact they were playing an older patch and, if memory serves, they hadn't encountered Sylvanus – a key character in that tournament's meta – until SWC. Being able to turn in a decent performance despite that is part of why I'm interested in OMG's sister team. I'd assume they've been scrimming OMG B for this championship so they might be a nice surprise in terms of providing a challenge or even going further than their stablemates this year. It'll also be good to see how the QG players have developed.
What are they playing for?
The prize pool is capped at $1m. There's also the Thor's hammer trophy and I think winners get commemorative rings this year.
Back up a second. Why is the prize pool capped at $1m when it was $2.6m last year?
The cap was a conscious move by Hi-Rez. What they're doing is trying to distribute money a bit more evenly across events and leagues. The intention is that more teams will have a chance at being financially viable instead of fighting over a small number of massive prizes. I've long voiced my discomfort with the huge sums for a small number of teams at The International in Dota 2 so I'm keen to see how this strategy pans out for Hi-Rez and pro Smite. It's also a decent way of side-stepping the crowdfunding arms race and avoiding those prize pool comparisons.
Is there anything non-esportsy that happens during this event?
Hi-Rez tend to use this opportunity to make announcements about Smite in general. Last year there were huge map changes. This year there's going to be the proper reveal of the first character from the Japanese pantheon. All the studio president, Stew Chisam, would tell me is that it's a goddess. I'm not sure what else is on the cards but I'm assuming there might be some season 3 bits and pieces and I'm hoping that the new joust map might get a launch date. There's also the cosplay contest which had a ridiculously impressive Scylla outfit last year so that should be cool.
I forgot to get a ticket or flights to Georgia or accommodation or a costume. Can I watch this at home in my pyjamas?
Is that everything?
There's also the Xbox Invitational which is the pro competition for the top Xbox teams but this is a PC gaming website so I'm probably not supposed to be looking at that.
NOW is that everything?
I think so. I mean, it's also my birthday during the event so I cannot promise that coverage won't devolve into a hunt for birthday cake but other than that I think we're good to go.
Great.
SWC 2016 starts at 11am EST (4pm GMT) on 7 January.