Snake Pass's serpentine platforming coming this month
Sssssss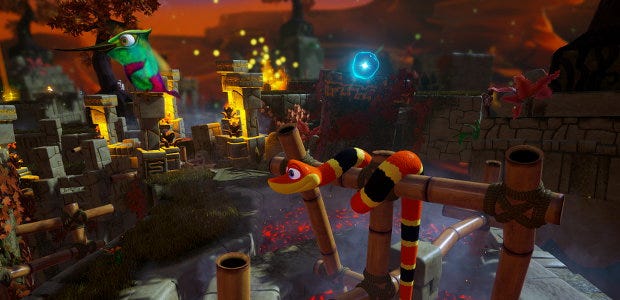 I'm sssurprised we've not yet mentioned that Snake Pass [official site] will launch at the end of March. It's an interesssting-looking physssicssss-bassssed puzzle-platformer ssstaring a sssnake who, unlike mossst animalsss in platformersss, actually movesss a fair bit like a real sssnake. To move Noodle the Snake, playersss need to expand and contract hisss body, laying down coilsss and winding in that ssserpentine motion to build ssspeed and climb obssstaclesss. A new video dev diary getsss technical on how the game'sss movement worksss but firssst, here'sss a ssslightly older one introducing how the controlsss even work. Have a look:
So with a gamepad, the left stick only moves Noodle's head, pointing in a direction, while the right trigger stretches his body out and the A button lifts his head. The more coils and curves you're pushing against, the faster you go, so serpentine winding is the way to go. That sounds really neat! Pip really enjoyed the movement when she played a brief demo a year ago.
(Yes, it will support keyboard controls too.)
So how does this snakemagic work? With computer, developers Sumo Digital explained in this nifty dev video from Friday:
Take the skin off a snake an, apparently, it's just a load of eggs in a line. No wonder they eat eggs so enthusiastically.
Snake Pass is coming to Steam on March 28th, priced at £16.99/19,99€/$19.99.