Something For The Weekend: Wildstar Beta Key Giveaway
Take a walk on the Wildstar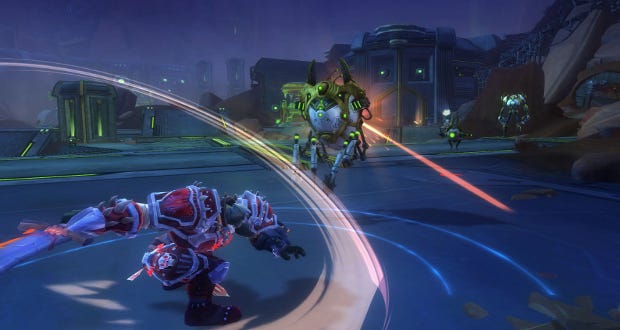 Listen! This weekend, the beta for Wildstar is opening up and 40,000 keys are available right now. First come, first served.
Our first feature about the sci-fi MMO went live in August 2011, which is approximately fifty seven years ago in blog years. Since then, we've had interviews, hands-on previews, news stories aplenty and one last interview. It's am ambitious game, not quite shattering the WOW mould but seeming to stretch it as far as it can go.
When they're gone, they're gone. If you're quick enough to snag a key, you'll receive an email from NCSOFT with download details and the servers go live this Friday at 15:00 GMT. Access ends on Sunday at 19:59 GMT.
It's a game that's trying to do a great deal, as our Graham noted recently:
Its PvE questing is structured in such a way that as well as hitting up NPCs for new quests, you get phonecalls from people as you play with little tasks to keep you engaged. Whatever you're doing, chances are you're progressing towards completing three different things simultaneously.

When you get in a scrap with some bads, the combat is a little more tactical than I'm used to from the genre.
Graham's thoughts gel with the claims and promises made by the dev team. They speak of skills that take actual skill to utilise, which is quite an unexpected concept in an MMORPG. I'm quite keen to play myself but don't have time this weekend. Send me postcards. You can see my house and address in this Street View image.